Police right to revisit MacShane case, says Yvette Cooper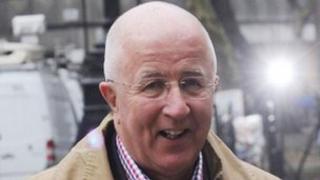 Police are "right" to look again at whether former Labour minister Denis MacShane broke the law in his abuse of parliamentary expenses, shadow home secretary Yvette Cooper has said.
Mr MacShane is standing down as an MP after a committee recommended a year's suspension from the Commons for claiming money using fake receipts.
But the Commons authorities told police he could not be prosecuted.
Ms Cooper said officers must now be allowed to act "independently".
Mr MacShane faced a 12-month suspension from the Commons over the affair, but resigned on Friday, triggering a by-election, after the Commons Standards and Privileges Committee found the MP had wrongfully claimed £7,500 in expenses.
He has repaid the money and was keen to stress that he had not gained personally, but wanted to take "responsibility for my mistakes".
'Serious condemnation'
But the Commons authorities insisted that damning letters from Mr MacShane to the standards commissioner could not be used against him in court, as they were protected by parliamentary privilege because they had been collected during proceedings of the House.
The Metropolitan Police dropped its investigation in July.
Ms Cooper told BBC One's Andrew Marr Show the committee had produced a "very serious report with very serious condemnation".
She added: "I think it is right that the police should be looking again at this. They have said they are doing that. They have to make their decision independently, the Crown Prosecution Service have to make their decisions independently."
The committee found Mr MacShane had submitted 19 false invoices "intended to deceive".
Letters in which he admitted expense abuses were deemed inadmissible when officers first looked at the case.
Labour MP John Mann said it was "nonsense" that the documents would be protected by privilege.