Denis MacShane expenses privilege claim queried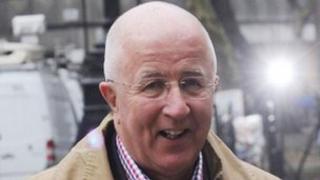 Parliamentary privilege rules should not have helped Denis MacShane escape a police investigation into his expenses, a Labour MP has said.
Mr MacShane quit as Rotherham MP after a committee found he had submitted 19 false invoices "intended to deceive".
Letters in which he admitted expense abuses were deemed inadmissible when officers first looked at the case.
John Mann said he believes it is "nonsense" that the documents would be protected by privilege.
The MP, a campaigner for greater openness on expenses, says the letters should be used if the police probe reopens.
"My interpretation of privilege is it's to prevent people suing over an allegation made in Parliament. I've had a lot of exchanges about privilege and the idea that it would have applied in this case, well, I don't think they have a leg to stand on," he said.
Mr MacShane faced a 12-month suspension from the Commons over the affair, but resigned on Friday, triggering a by-election, after it was revealed he had wrongfully claimed £7,500 in expenses.
He has repaid the money and was keen to stress that he had not gained personally, but wanted to take "responsibility for my mistakes".
Parliamentary Standards Commissioner John Lyon found Mr McShane had entered 19 "misleading" expenses claims for research and translation services from a body called the European Policy Institute (EPI), which was in fact an organisation with no office or salaried staff, with a bank account controlled by Mr MacShane himself.
The Metropolitan Police dropped its investigation into Mr MacShane in July after receiving advice from the Crown Prosecution Service, having been told his letters to Mr Lyon could not be relied upon as prosecution evidence as they were said to be covered by parliamentary privilege.
Conservative MP Philip Davies says Mr Lyon's report contains new evidence which means the Met should reopen the investigation into the former Labour minister for Europe, and his calls have been echoed by Tory colleague Pauline Latham.
"If somebody's done wrong they should have the punishment they deserve," she told BBC Radio 5 live.
"If someone else was fraudulent they would be investigated and go to court and possibly go to prison. If there is a case to answer the police should look at it."
The Met said: "We are aware of the report and will be assessing its content in due course."
Former BBC journalist Mr MacShane, who had been MP for Rotherham since 1994, said the British National Party had run a "three-year campaign to destroy my political career," but thanked his supporters for their help.
'Regret foolishness'
"I have been overwhelmed by messages of support for my work as an MP on a range of issues but I accept that my parliamentary career is over," he said.
"I appreciate the committee's ruling that I made no personal gain and I regret my foolishness in the manner I chose to be reimbursed for work including working as the prime minister's personal envoy in Europe."
Mr MacShane, a past president of the National Union of Journalists, was also criticised for "excessive" claims for computer equipment, which MPs are allowed to claim for to support their parliamentary work.
In one instance the commissioner found he had allowed an intern to take a publicly-funded laptop away at the end of their internship, and bought a new one for his next intern. He also claimed for the same computer twice.
In a statement, Mr MacShane said: "I want to thank the people of Rotherham for allowing me to serve as their MP and the Labour Party for allowing me over the years to fight for the causes I believe in.
"I love the House of Commons and I hope by resigning I can serve by showing that MPs must take responsibility for their mistakes and accept the consequences of being in breach of the House rules."