Child benefit cuts: David Gauke decries 'fiscal nimbyism'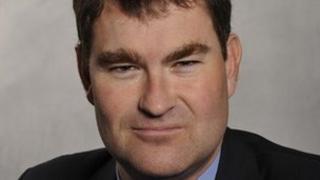 Middle-class parents who complain about cuts to child benefit for higher earners have been accused of being "nimbys" by a Treasury minister.
The phrase - which stands for "not in my back yard" - is normally used to describe people who block building developments out of self interest.
Treasury Minister David Gauke said "every section of society" had to make a contribution to cutting the deficit.
Labour said it was an example of how out of touch the coalition had become.
Child benefit is tax free and currently stands at £20.30 a week for the first child and £13.40 for each child after that.
'Have to cope'
From January, families where one parent earns between £50,000 and £60,000 will have their benefit reduced on a sliding scale, and will only lose the benefit entirely when earning over £60,000.
Because child benefit is tax free the move is the equivalent of a £4,000 salary cut for families with three children.
But Mr Gauke said his wife, a corporate tax lawyer, and three children would "just have to cope" with the loss of benefit and "live within our means, just like the country".
He told The House magazine: "I think there's a lot of people who are in favour of reducing the deficit, but then when it's something that affects them there can be a degree of fiscal nimbyism.
"The reality is that every section of society is having to make a contribution. We can't pretend that there can be sections of society which we can completely protect from deficit reduction."
He added: "We are not trying to engineer a row over this.
"It's going to have a significant impact for those of us affected but the point we would make is that it is right when we are making difficult decisions, particularly on welfare, that that section of the population, the top 15-10%, make a contribution."
'Chaotic'
The Treasury minister also refused to rule out future cuts to other universal benefits, such as the winter fuel allowance and free bus passes.
"What will happen in the future, will happen in the future. I think we'll cross that bridge if and when we come to it," he told the magazine.
Catherine McKinnell, Labour's shadow exchequer secretary to the Treasury, said the coalition was out of touch with ordinary families.
"Ministers shouldn't be insulting parents or telling them to stop moaning about losing thousands of pounds in child benefit.
"What they should be doing is explaining how on earth it can be fair to cut child benefit from parents on £50,000 while people on over £150,000 are getting a tax cut.
"And they need to tell us how many millions of pounds are being wasted on the chaotic and complicated administration of this ill-thought-out policy."