William Hague's antique anaconda cost £10,000 to re-stuff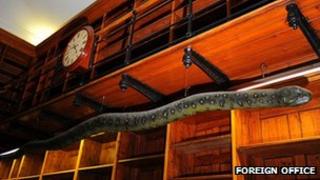 The Foreign Office has spent £10,000 on the "essential maintenance" of a stuffed anaconda called Albert.
The 20ft snake has been hanging in the library of what is now William Hague's department since the 19th Century.
But officials sent it for a scan after noticing it was in poor condition - and the sorry-looking snake was re-stuffed.
Foreign Office officials say they are obliged to maintain the department's assets - and Albert is seen as one such asset.
The story was uncovered through a Freedom of Information request by political gossip website Guido Fawkes.
The official FOI reply explains how the Foreign and Commonwealth Office (FCO) came to be the owner of an antique anaconda.
'CT scanning'
It says: "Albert the anaconda was allegedly presented by a bishop, in what is now Guyana, to the Colonial Secretary in the 19th Century - exact names and dates are unknown.
"However, he appears in a photo from circa 1892, which means he has been in the FCO for at least 120 years.
"As a gift to the FCO, Albert is therefore regarded as an FCO asset. As such, the FCO is obliged to maintain its assets, and the work on Albert was essential maintenance.
"It is believed that Albert was first re-stuffed in the 1960s or 1970s, but there are no records of how much it cost on that occasion."
The FOI reply goes on to explain that "no significant maintenance" has been carried out on Albert in the past 40 to 50 years.
Officials moving the snake from its suspended position in the Ansel Library, to make way for building work, decided to send him for "conservation and restoration work" costing £10,000.
The work was carried out by the conservation team at the Natural History Museum, over a five-week period, from 21 May to 26 June 2012.
"As nothing was known about previous work done on Albert, the conservation team at the NHM needed to use x-ray CT scanning, which is a costly procedure that required extensive data processing and a specialist to do the analysis," says the FOI reply.
"Also, the level of detailed, delicate work in the restoration involved an intensive amount of care and attention from highly trained staff."