EU budget: Margaret Hodge's dismay at voting with Tories revealed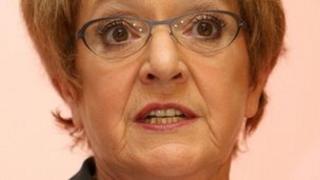 A senior Labour MP has described being asked to vote with Tory rebels in favour of a cut in the EU budget as "hateful" and "outrageous".
Margaret Hodge's remarks were picked up by microphones on Wednesday as she prepared to chair a public accounts committee meeting.
She said she felt like abstaining in the vote - but later went through the division lobbies with other Labour MPs.
Ed Miliband ordered his MPs to back Tory rebels to defeat David Cameron.
The recording of the public accounts committee meeting at which Mrs Hodge is reported to have made the unguarded remarks has been removed from Parliament's website while officials investigate.
Microphones are not normally switched on until meetings begin, to avoid private comments by committee members and witnesses becoming public.
Mr Cameron's defeat is being seen as a blow to his authority ahead of EU budget talks next month.
He has said he will push for a freeze in the EU's long-term budget - something he says no previous British prime minister has achieved - and he has threatened to use Britain's veto if he does not get what he considers to be a good deal.
'Hypocrisy'
But Eurosceptic Tories are demanding a cut in the EU budget - and 53 of them formed an unlikely alliance with Labour MPs to put pressure on the prime minister.
Mr Miliband has been accused of hypocrisy by Deputy Prime Minister Nick Clegg over his tactics in Wednesday evening's vote.
Mr Clegg said Labour was well aware there was "absolutely no prospect" of achieving a real-terms cut.
"Their change of heart is dishonest, it's hypocritical. And worst of all, Labour's plan would cost the taxpayer more, not less," said the Lib Dem leader.
But Shadow Foreign Secretary Douglas Alexander said Labour had been "entirely consistent" since July in arguing for a real-terms cut and played down uneasiness in his own party's ranks over being forced to file through the voting lobbies with right-wing Conservatives.
Mr Alexander told BBC Radio 4's Today programme: "There's the world of difference - with the greatest respect to Margaret, who's a friend as well as a colleague - from one colleague saying I'm almost going and a position in the Conservative Party where dozens of rebels voted against their own prime minister.
"The Labour Party was consistent and clear in July that we thought the right approach for Britain, in fact the right approach for Europe, was to go for a real-terms cut.
"It is a losing argument for pro-Europeans to somehow suggest that Europe should be exempted from the economic challenges that many, many countries are facing.
"We support Britain's future in Europe but we also support the reform of Europe."
'Impossible'
The rebel amendment passed by 307 votes to 294 after a stormy debate in Commons on the 27-member union's next seven-year budget and UK contributions.
The European Commission's proposed budget for 2014-2020 would see a 5% increase in spending on the current seven-year period.
Government supporters said it would be "nigh on impossible" to negotiate a budget reduction given the lack of support among other EU nations and urged MPs to back Mr Cameron's call for an inflation-linked rise as the minimum acceptable outcome.
The Chancellor, George Osborne told BBC Radio 4's Today programme: "I want a cut in the EU budget, David Cameron wants a cut in the EU budget" and both were determined to "end the outrageous increases in European spending".
He refused to rule out a possible a cut in the EU's budget, saying it was the "beginning of a negotiation".