No fraud charge for Adam Werritty - CPS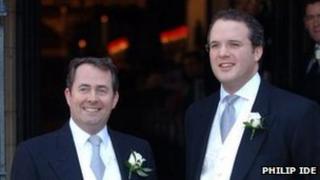 The Crown Prosecution Service has decided that no fraud charges are to be brought against Adam Werritty, a close friend of MP Liam Fox.
Mr Fox resigned as defence secretary last year after pressure over his working relationship with Mr Werritty.
City of London police investigated an allegation of fraud that Mr Werritty distributed business cards claiming he was an adviser to Mr Fox.
The complaint was made by Labour MP John Mann.
Andrew Penhale from the CPS said: "These are matters which have been widely reported. In accordance with the Code for Crown Prosecutors, we have advised City of London Police that there is insufficient evidence to provide a realistic prospect of conviction."
It is understood that the absence of trademark protection for the crowned portcullis emblem had a material impact on the CPS decision.
'Vindicated'
Mr Fox quit government last October after a report found he breached the ministerial code.
The former cabinet minister admitted he had allowed his public responsibilities and private loyalties to become "blurred" over his links to Mr Werritty, a former flatmate and best man at his wedding.
Mr Werritty was under investigation after handing out the cards suggesting he was an adviser to Mr Fox even though he had no official government or party role and allegedly accepting donations as part of that role.
It emerged he had visited his office at the Ministry of Defence 22 times in a year-and-a-half and was present on 18 overseas trips.
In a statement, Mr Werritty told the Daily Mail: "While much of last Autumn's media coverage was often short on detail and substance, and in a minority of cases little more than innuendo, a serious allegation, of fraud, was made against me.
"I have always maintained that this allegation was baseless so I naturally feel vindicated, but unsurprised by the CPS's decision."