Lords boundary vote delayed amid reports of coalition row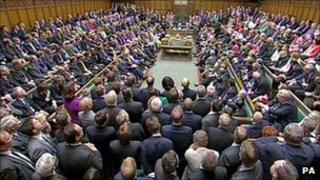 A vote that could have seen the review of constituency boundaries delayed until 2018 has been postponed.
Lord Strathclyde said he had been advised the motion, signed by Labour and Lib Dem peers, was "inadmissible" and so delayed the debate until Monday.
But Labour disputed the advice and said they should have been consulted before changes were made.
It follows reports that Downing St was unaware Lib Dems supported the motion and ordered the vote to be pulled.
The boundary review has been controversial since its outset, with the Commons set to be reduced in size from 650 to 600 MPs and constituency sizes made more uniform.
However, the Lib Dems have said the changes cannot happen before the next election - scheduled for 2015 - and Lib Dem leader Nick Clegg has promised to oppose the final proposals.
They argue they were linked to proposals to elect members of the House of Lords, abandoned by the government over the summer, although the Conservatives dispute this.
David Cameron has said he will still push ahead with the plans, which would see the new boundaries implemented from 2015.
On Wednesday, the Lords was expected to debate an amendment to the Electoral Registration and Administration Bill - tabled by Labour and Liberal Democrat peers - which could have delayed the redrawing of parliamentary seats until 2018, but this was changed at short notice.
Lord Strathclyde, the leader of the House of Lords, told peers this was because officials had advised him the motion was "inadmissible" and should be withdrawn.
He said when it became clear the Labour peer who had tabled the motion wanted to press ahead, the government took the decision to postpone the debate until next week.
But Baroness Royall, the Labour leader in the Lords, said separate advice from a senior lawyer showed the amendment was in order.
She said Lord Strathclyde should have held talks with the opposition before pulling Wednesday's vote and questioned whether he had exceeded his authority in changing business without the agreement of peers.
Reports suggest that David Cameron had been unaware of Liberal Democrat support for the amendment and asked for the debate to be delayed.
A Lib Dem source refused to confirm to the BBC that the prime minister and deputy prime minister had argued over the issue, but said it was better to postpone the boundary review now so that money was not spent preparing for something that would not happen.
Another Lib Dem source in the Lords said that Downing Street had ordered Lord Strathclyde to pull Wednesday's vote.
A source close to Labour's leadership in the Lords said: "With the threat of yet another defeat in the Lords, the government has clearly been panicked into pulling its business."
The boundary changes, approved in principle by Parliament last year, will see England, Scotland, Wales and Northern Ireland lose 31, 7, 10 and 2 seats respectively.