EU budget: Cameron in bitter clash with Miliband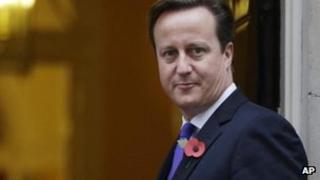 David Cameron has accused Ed Miliband of "rank opportunism" after the Labour leader decided to back Tory rebels in a key EU budget vote in the Commons.
But Mr Miliband said the PM was as "weak" as ex-PM John Major on Europe - and accused him of "throwing in the towel" before budget talks had begun.
Mr Cameron wants a freeze in the budget but Tory rebels and Labour are demanding a real-terms cut.
The PM is battling to avoid defeat in a vote at the end of the current debate.
MPs are expected to start voting in the next 40 minutes.
Speaking at Prime Minister's Questions, Mr Cameron said he would veto any deal on the EU's financial plans if he could not get a deal that was good for Britain.
He said "at best" he would like to see the budget cut, and "at worst" frozen, but it was in the national interest to get a deal.
'Weak'
He accused the Labour leader of "rank opportunism" - and said voters would see through Mr Miliband's party political "posturing".
"He is playing politics, he is not serving the country," said Mr Cameron during a noisy session.
Mr Miliband said the prime minister "can't convince anyone on Europe", adding: "He has thrown in the towel even before these negotiations have begun.
"He can't convince European leaders, he can't even convince his own backbenchers. He is weak abroad, he is weak at home: It's John Major all over again."
The prime minister told Mr Miliband his position was "completely incredible".
Former Conservative Prime Minister Sir John Major saw his government brought to its knees by a series of backbench rebellions on Europe during the early 1990s.
MPs are debating the EU's 2014-2020 budget proposals, with a vote expected between 1800 and 1900 GMT, in what is being seen as a test of Mr Cameron's authority on Europe.
Mr Miliband's decision to back the Tory rebels increases the possibility that Mr Cameron will be defeated, although he is still thought likely to win any vote, as the Lib Dems and most Tory MPs will back him.
'Rank hypocrisy'
Labour sought to justify its decision to vote with Eurosceptic Conservative rebels by saying their call for for a cut in the EU budget was in line with their own position and they had tabled a similar amendment themselves earlier this year.
But Justice Secretary Chris Grayling told the BBC it was "rank hypocrisy" for Labour to "pretend to be the eurosceptic party" given its record of defending the UK's interests when it was in government.
Agreement on an EU budget for the period up to 2020 must be reached by all member states and the European Parliament.
The European Commission has proposed a £826bn (1.025 trillion euros) budget ceiling, equivalent to 1.03% of EU gross national income (GNI). That is a 5% rise compared with the 2007-2013 budget.
Mr Cameron has said any above-inflation increase in the budget would be inappropriate at a time when member nations are having to cut spending at home and said he would be prepared to veto any unacceptable proposal - budget decisions require the agreement of all 27 member states.
But some Conservative MPs want the UK to go further and demand a reduction in real-terms spending in future negotiations, starting at next month's EU council meeting.
The Tory rebels said they believed 40 to 60 of their colleagues would back the amendment.
Budget 'increases'
But, writing for the Conservativehome website, fellow Conservative MP Andrea Leadsom said the amendment was "wrong for Britain" as it did not focus on where money would actually be spent on a year-by-year basis.
"It won't produce the reform that British voters are looking for, and it could ironically result in higher cost to Britain's taxpayers, while damaging our scope for negotiations on the direction of expenditure," she said.
The SNP said its MPs would meet ahead of the Wednesday's debate to discuss their stance on the issue.
But their Treasury spokesman Stewart Hosie said a cut in the budget seemed "very sensible". "You cannot protect increases in the EU budget when there is austerity throughout Europe," he said.
In 2011, the UK's net contribution to the EU budget was 7.25bn euros (£5.85bn; $9.4bn), after the UK's rebate of 3.56bn euros from the EU, according to data from the European Commission. However, according to the Treasury the figure is £8.1bn.
Spending on agriculture and support for Europe's poorer regions - known as cohesion funds - account for about 80% of total proposed EU spending between 2014 and 2020.
MEPs want spending levels for those major budget items to be at least maintained at the 2007-2013 level but also want "significant increases" in budgets for competitiveness, small business, sustainable infrastructure and research and innovation.
EU leaders will hold a budget summit on 22 and 23 November. If no agreement is reached by the end of next year, the 2013 budget will be rolled into 2014 with a 2% rise to account for inflation.