EU budget vote: Conservative rebels urge spending cut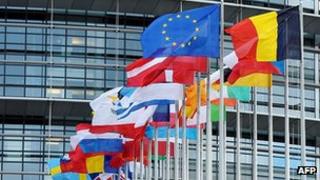 More than 30 Conservative MPs are calling for a real-terms cut in the European Union's budget ahead of an important Commons vote on the issue.
MPs will debate the EU's 2014-2020 budget proposals on Wednesday in what is being seen as a test of David Cameron's authority on Europe.
The prime minister wants a real-terms freeze in spending but 32 Tory MPs have signed an amendment backing a cut.
No 10 said the final budget deal had to be "acceptable" to the UK.
Negotiations over the EU's next long-term budget, called the Multiannual Financial Framework (MFF), are taking shape amid calls from the UK and other nations for restraint at a time when many countries are pushing through unpopular domestic austerity measures.
'Inappropriate'
The European Commission has proposed a £826bn (1.025 trillion euros) budget ceiling for the period up to 2020, equivalent to 1.03% of EU gross national income (GNI). That is a 5% rise compared with the 2007-2013 budget.
Agreement must be reached by all member states and the European Parliament on a new deal.
Prime Minister David Cameron has said any above inflation increase in the budget would be inappropriate at a time when member nations are having to make tough spending decisions at home.
He has said he would be prepared to veto any unacceptable proposal - budget decisions require the agreement of all 27 member states.
But some Conservative MPs want the UK to go further and demand a reduction in real-terms spending in future negotiations, starting at next month's EU council meeting.
MPs who have signed the rebel amendment include Zac Goldsmith, Bill Cash, John Redwood and Bernard Jenkin.
But, writing for the Conservativehome website, fellow Conservative MP Andrea Leadsom said the amendment was "wrong for Britain" as it did not focus on where money would actually be spent on a year-by-year basis.
"It won't produce the reform that British voters are looking for, and it could ironically result in higher cost to Britain's taxpayers, while damaging our scope for negotiations on the direction of expenditure," she said.
The BBC's deputy political editor James Landale said that privately, officials in Whitehall believe demands for a cut are implausible and that securing a real terms freeze would be unprecedented and a huge victory in itself.
Labour have indicated they could back Conservative rebels on Wednesday and vote for a budget cut, increasing the pressure on the government's Commons majority.
The BBC's parliamentary correspondent Mark D'Arcy said government whips in charge of party management are taking no chances with ministers cancelling engagements to be present for the vote and MPs previously given permission to be absent recalled.
Senior Conservatives have accused Labour of opportunism, arguing that their party's MEPs supported an increase in last year's budget and the last Labour government gave up part of the UK's rebate on its EU contributions without getting anything in return.
'Not straightforward'
Downing Street said getting the agreement of all 27 member states to the final budget would be "challenging".
"It is not going to be straightforward to reach an agreement," a No 10 spokesman said. "The majority of countries around the table are getting more out of the EU budget than they are putting in. That will obviously affect their view.
"We want to try to reach a deal but it needs to be a deal that we find acceptable and is in our our country's interests."
In 2011, the UK's net contribution to the EU budget was 7.25bn euros (£5.85bn; $9.4bn), after the UK's rebate of 3.56bn euros from the EU, according to data from the European Commission. However, according to the Treasury the figure is £8.1bn.
Spending on agriculture and support for Europe's poorer regions - known as cohesion funds - account for about 80% of total proposed EU spending between 2014 and 2020.
MEPs want spending levels for those major budget items to be at least maintained at the 2007-2013 level but also want "significant increases" in budgets for competitiveness, small business, sustainable infrastructure and research and innovation.
EU leaders will hold a budget summit on 22-23 November. If no agreement is reached by the end of next year the 2013 budget will be rolled into 2014 with a 2% rise to account for inflation.