Legal aid cheats targeted by Ministry of Justice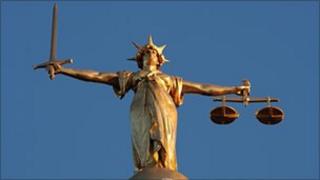 Criminals who collectively owe millions of pounds in legal aid could have their assets seized under government plans.
The proposals would target criminals who use legal aid to pay for their defence and then refuse to pay back what is owed when they are convicted.
About £1.8m of the £10m owed last year - less than a fifth - was collected, the Ministry of Justice said.
Justice Secretary Chris Grayling said it was "not right that law-abiding citizens foot the bill".
"These proposals set out robust measures that will see more costs recuperated from criminals," said Mr Grayling.
"This includes measures like seizing assets, such as cars, from criminals who attempt to evade paying back these fees by hiding income and savings."
All defendants in crown courts are granted legal aid for the cost of their defence, but are then expected to pay back some, or all, of the costs if convicted, depending on their earnings and assets.
Under the proposals, convicted criminals who are believed to have assets but who refuse to provide the required information to assess how much they should pay back, "will then simply be pursued for the entire cost of their legal aid bill", the Ministry of Justice said.
Others who hide assets or earnings to reduce their bill would be faced with a new demand if the extent of their wealth came to light after their legal aid contribution was imposed.
And those who fail to pay face having their vehicles clamped and sold in order to cover the costs.
The consultation closes on 11 December.