Tony Blair calls for elected president of Europe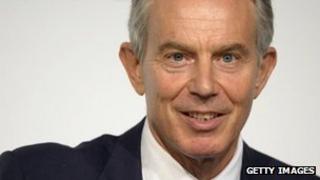 Tony Blair has floated the idea of having a President of Europe directly elected by people across the continent.
The former UK prime minister made the suggestion in a speech to the Council for the Future of Europe in Berlin.
"Out of this European crisis can come the opportunity finally to achieve a model of European integration that is sustainable," said Mr Blair.
"A Europe wide election for the Presidency... is the most direct way to involve the public," he added.
He acknowledged that the European Union's institutions were seen as too distant by many people around the EU.
"An election for a big post held by one person - this people can understand. The problem with the European Parliament is that though clearly democratically elected, my experience is people don't feel close to their MEPs."
However, he added: "I can't see any new political settlement being acceptable without direct popular consent through referendums."
"Ultra-eurosceptics - by which I mean those essentially in opposition to the whole Europe project - are on the wrong side of history. The 21st Century case for Europe is based not on war or peace but on power or irrelevance," Mr Blair said.
Mr Blair, who was UK prime minister from 1997 to 2007, said that "the present situation is the most serious to have faced the EU since its inception. And as we speak, the crisis persists."
A stronger EU was the solution, he said.
"We should recognise that the underlying, profound rationale for Europe and its union is stronger than ever."
In response, Nigel Farage MEP, the leader of the UK Independence Party, said: "This is the man who would sell his country, for the bauble of EU office."
He added: "The ideas contained in Blair's speech do however show that even he is giving up on his old dream of Britain being at the heart of Europe, it isn't and it cannot be.
"He hopes that the EU can in some way have one speed while travelling at two, it just isn't possible. His hopes will be dashed, as I hope will his ambitions."