England cities to be offered more control over budgets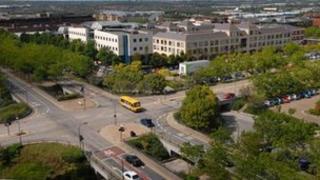 Twenty towns and cities in England are to be offered more spending control in areas such as planning and transport.
The government earlier this year gave Birmingham, Manchester, Sheffield and five other authorities the right to spend tax receipts from local firms.
Cambridge, Hull, Coventry, Plymouth and Sunderland are among the areas that could now gain similar powers.
Nick Clegg said the City Deals were part of efforts to rebalance the economy and decentralise powers.
The deputy prime minister insisted the process would be a "genuine transaction" between cities and central government.
The initial eight cities - which also included Bristol, Leeds, Liverpool, Newcastle and Nottingham - were given greater control over government areas including infrastructure projects, transport and job training budgets.
Now a further 20 towns, cities and regions are being invited to set out the powers they need to drive local growth.
They are: The Black Country; Bournemouth; Brighton and Hove; Cambridge; Coventry and Warwickshire; Hull and Humber; Ipswich; Leicester and Leicestershire; Milton Keynes; Norwich; Oxford; Reading; Plymouth; Preston and Lancashire; Southampton and Portsmouth; Southend; Stoke and Staffordshire; Sunderland and the North East; Swindon and Wiltshire, and Tees Valley.
'Quiet revolution'
Council and business leaders in each of the cities will be asked to put forward proposals to "unlock" potential for growth in their areas with the "strongest propositions" being taken forward.
Plans will need to be "ambitious" and harness both public and private sector resources, ministers said.
Mr Clegg said there was a "quiet revolution" taking place in England's largest cities.
"From control over buses and trains and the freedom to plug skills gaps, to powers to 'earn back' tax and set up local investment funds to spend on local projects - the deals are unlocking the huge potential of our cities," he said.
"Now it is time to free even more places from Whitehall control. I want these 20 cities and their wider areas to come up with ambitious and innovative proposals to help them make changes that will be felt by everyone across their region."
Conservative minister for cities Greg Clark said the process would put cities in the "driving seat" and allow them to consider new and different ways of operating.
"If it is in the city's interest and the national interest, we will strike a deal and make it happen."
The Centre for Cities think tank welcomed the roll-out of the scheme but that cities need to make the most of powers already at their disposal.
"The focus for both government and cities needs to be ensuring that there are sufficient resources to implement the first round of eight Core City Deals, at the same time as delivering transformational deals for a new wave of cities," it said.