Ken Clarke rethinks married couples' tax break stance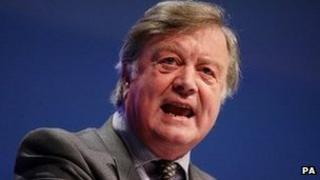 Cabinet minister Ken Clarke says he accepts his party will honour its pledge to help married couples through the tax system - after suggesting the change might be delayed.
The Conservative election manifesto said the move would happen before 2015.
But in a Daily Telegraph interview Mr Clarke said: "I don't remember anyone promising that kind of thing."
A spokesman for Mr Clarke later said he had been expressing opinion, not policy.
While in opposition the Tories promised a transferable tax allowance possibly worth £150 a year to married couples.
It would apply where one spouse stayed at home.
But in the Telegraph interview Mr Clarke expressed surprise that a pledge had been made to introduce the policy before the end of this parliament.
He said: "We never committed ourselves to married couples' tax by the end of parliament, did we?
"I'm married, I'm not counting on it. I don't remember anyone promising that kind of thing."
Tax changes
Later a spokesman for the former justice secretary said: "It was a comment, not a statement of policy. Any tax changes are a matter for the chancellor."
Then a second comment was released on Mr Clarke's behalf, which said he had no doubt the change would be introduced - but made no mention of a possible timescale.
"He completely accepts it's going to happen," said a spokeswoman.
The government says tax is a matter for the chancellor.
The Conservative manifesto for the election in 2010 stated: "We will recognise marriage and civil partnerships in the tax system in the next parliament."
The measure had been opposed by Liberal Democrats, who secured the freedom under the Coalition Agreement to abstain in any parliamentary vote on the issue.
Mr Clarke told the Telegraph economic conditions were tough, and he believed a "long hard road" still lay ahead.
Despite growth of 1% in the third quarter of 2012 announced earlier this week, which was better than expected, the minister said it was too early to be certain the economy was rallying.
He said: "Anybody who says we are absolutely certain we are bouncing back to strong growth is being very optimistic."