Child-related benefits may be 'capped' at two children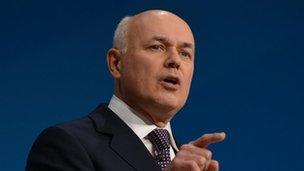 Child-related benefits for families may be capped at two children, the work and pensions secretary has said.
Iain Duncan Smith said stopping the current system, where families get more benefits the more children they have, was among changes being considered.
Families on benefits were often "freed from" the decision of whether they could afford more children, Mr Duncan Smith said, and must "cut their cloth".
But child poverty campaigners expressed concerns at the proposals.
In a speech in Cambridge, Mr Duncan Smith will ask whether families should be able to expect never-ending amounts of money for every child, when working households have to make tough choices about what they can afford.
Ahead of the speech, he told the BBC that the state would continue to support unemployed people who wanted to have children but had to question whether such support should be "endless".
"When you look at families across the board across all incomes, you find the vast majority make decisions about the number of children they have, the families they want, based on what they think they can afford."
Many working families decided against having more children even if they wanted to, for financial reasons, he suggested, while there was a "clustering" of large families on welfare who did not have to confront that reality.
"People who are having support from welfare are often freed from that decision. Can there be not be a limit to the fact you need to cut your cloth in accordance with what capabilities and finances you have?"
Asked where a potential cap would be set, Mr Duncan Smith said: "My view, if you did this, you would start it for people who begin to have more than, say, two children."
He rejected suggestions this was about "penalising" people or simply saving money, insisting it was a question of fairness to those who were in work and paying taxes to support welfare.
"This is part of the process of saying there is a limit to the amount of welfare available and we need you to be positive about doing the right thing, to seek a job and to support your family."
It is not yet clear which child-related benefits would be covered by any cap and the BBC understands the plan would not come into effect until after the next general election - scheduled for 2015.
No 10 said no final decisions had been taken on the matter. "We are looking at a range of choices on welfare reform and the welfare secretary was posing questions," a spokesman said.
According to government statistics, there were 3.2 million children living in families with three or more children in 2010-11 and families with more than two children are more likely to be living in poverty based on standard measures of comparative income.
The BBC's political editor Nick Robinson said the move would save an estimated £200m, so was relatively small in scale compared with the £18bn already cut from the welfare budget and the additional £10bn in savings now being looked for.
But he said polls suggested the idea of setting the cap at two children popular with the public, many of whom had two children and did not understand why people who do not work should have things they did not.
Mr Duncan Smith's overarching message is that cultural change is required - both in the minds of those on benefits and in government - so that the welfare system is a springboard into work, rather than something which traps people into a life of dependency.
Campaigners said they were "very worried" about the government's intentions, pointing out that the majority of children in poverty are those whose parents are already working in low-paid jobs.
"Like many other people, when they plan their families, they are not thinking about whether at some point in the future they might be on benefit," Alison Garnham, chief executive of the Child Poverty Action Group told Radio 4's Today programme.
Labour said the government's "tough talk" could not hide the fact that it was working families who were being penalised.
"Never before have working people paid so much in and got so little back," shadow work and pensions secretary Liam Byrne said. "We were promised a welfare revolution and all we've got is welfare chaos - chaos that working people are being forced to pay for."
Large families are already facing a "disproportionate" squeeze on their finances, the Institute for Fiscal Studies warned earlier this year.
The think tank said three-child households could see their income levels drop by 6.8% by 2015-6, compared with a 3.3% fall for one-child families.
Related Internet Links
The BBC is not responsible for the content of external sites.