Cuts could 'worsen road quality' watchdog warns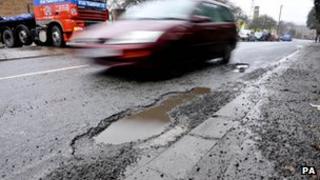 Cuts to local authority budgets could worsen the quality and maintenance of roads, the government's spending watchdog has warned.
The National Audit Office said obligations on councils, such as paying for subsidised bus fares, meant spending on highway maintenance was "likely to fall".
The AA warned "lives could be lost" if the upkeep of roads was neglected.
But the government says councils will get over £3bn for road maintenance.
In a report on the funding of local transport services, the National Audit Office recognised that funding from the Department for Transport had "remained stable" following the 2010 spending review.
But it said: "However, there is a 28% real-terms fall in grants from the Department for Communities and Local Government over the spending review period (up to 2014-15).
"In transport, this includes payments to bus operators to reimburse them for statutory concessionary fares, a cost largely beyond the control of local authorities.
"This means that funding available for other areas of local government spend, including routine highways maintenance, is likely to fall."
'Pothole blight'
The report added: "Against the background of reduced and sometimes uncertain central government funding, the local authorities that we spoke to said that they are having to prioritise and reduce their expenditure on transport."
This risked worsening the quality of roads, the watchdog said.
AA president Edmund King said: "Recent road maintenance crises, like the post-winter pothole blight and road salt shortage, were only managed with emergency funding and national intervention.
"As austerity measures take hold, English road maintenance block grant funding will fall by almost £100m next year and budgets which are not ring-fenced will once again be raided."
He went on: "Undoubtedly, lives will be lost if road maintenance is further neglected."
Peter Box, chairman of the Local Government Association's economy and transport board, said funding for road repairs had not kept pace with demand and at current funding levels councils "may struggle to move beyond simply patching up their roads".
"Damage caused by severe winters and widespread flooding has compounded this deterioration and it's estimated it would now cost about £10bn to bring our roads up to scratch," he said.
Transport minister Norman Baker said: "Local roads are the responsibility of local highway authorities and they are best placed to use their knowledge and experience to decide how to prioritise funding across the range of services they deliver.
"This government is giving councils over £3bn for road maintenance from 2011-12 to 2014-15, as well as investing £6m for the highways maintenance efficiency programme to get the most out of investment in this area."
The National Audit Office also called for the government to provide more clarity on its plans to devolve funding for major transport schemes, with more power given to local communities and more local decision-making.
"This includes being clearer on who is accountable for local transport funding and how they will be held to account".
The Department for Transport welcomed the report: "We agree that in taking forward decentralisation, it is important to ensure there is appropriate transparency and accountability at the right levels, to drive value for money."