Is it time for Labour to rethink its policy on Britain's place in Europe?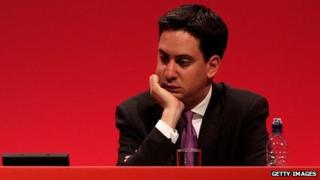 While many Conservative politicians have openly called for a reappraisal of the UK's relationship with the EU, Labour's leadership has been curiously quiet - but behind the scenes it is reassessing its stance on Britain's place in Europe.
Member of Parliament Gisela Stuart might have been a model Labour pro-European. She joined the party after moving to Britain in the early 1970s from her native Bavaria.
But the MP for Birmingham Edgbaston since 1997 has become steadily more critical of the EU, and now she says it is time for Britain to leave.
"I think ultimately it has to go that way, yes," she says, speaking to Radio 4's Analysis programme.
She admits that few in her party would agree. Even those who might have sympathy with her views would, she believes, be too afraid to say so:
"It is a view which is so heretical… you're seen as a lunatic."
Labour has long presented itself as united in its pro-European views, in contrast to the Conservatives.
But is Labour as united and sure of itself over Europe as is claimed - especially at a time when the EU itself is changing so rapidly?
Behind the scenes, influential figures admit that the party has to think very hard about how it would approach the new challenges which the EU is creating for Britain.
How far should Britain accept and adapt to a place in a second or third tier of EU membership as the euro-zone unites? Should a Labour government seek to bring some powers back from Brussels?
Furthermore, how far and when should the British people have a say on membership of the new version of the EU?
All these are things an incoming Labour government might have to act on rapidly after taking office, so internal debating and planning cannot be left until then.
But for some of Labour's leading pro-EU advocates, the old approach is still essentially the best one.
Roger Liddle, the party's spokesman in the Lords, is a veteran of past Labour battles over Europe.
When the demands of the party's left gained ground in the early 1980s, calling for the UK to withdraw from the "capitalist club" that was the-then European Economic Community, Liddle was one of those who left Labour in protest to join the SDP.
He later returned, impressed by Labour leader Neil Kinnock's "passionate conversion to Europe" in the late 1980s, embracing European social and employment policies as a way of countering Thatcherism.
Eurosceptics 'more imaginative'
As the Tories divided sharply over progress towards economic and monetary union from the early 1990s, Labour remained committed, in theory, to joining the euro - although the "five tests" established by then-chancellor Gordon Brown meant that the UK did not join in practice.
Despite the crisis the euro is now going through, Roger Liddle believes that UK commitment to join the centrepiece of EU unification should remain.
"If we're talking about a Mark II Euro, which has overcome its flaws, I am clear that that possibility should still be kept there," says Lord Liddle.
At the same time, however, Labour politicians realise that British public opinion has hardly been warming towards European integration.
One figure close to the Labour leadership told me that eurosceptics have been "more imaginative" in making the running in public debate.
And that is partly because the Labour party had thought it did not need to talk about Europe at all, suggests Charles Grant of the pro-EU Centre for European Reform (CER) think tank.
"They've just hoped the problem would go away.
"In the last European election campaign, [Labour] candidates were told not to talk about the European Union.
"Some of the more perceptive Labour leaders have noticed that by not talking about something, it means that the debate is being lost," Grant adds.
Thomas Docherty, who became MP for Dunfermline and West Fife in the last election, is one of the younger Labour MPs thinking radically about the party's policy.
When Labour became pro-European in the late 1980s, he says "a lot of the detail wasn't done about where it was going to go to."
Docherty does not advocate Britain leaving the EU, but he believes his party has not kept pace with public opinion.
He even praises Tory leader William Hague's 1999 European election slogan "in Europe, but not run by Europe".
"That resonated hugely with people," argues Docherty.
"A vast number of people want to be in the European Union… but they're not convinced that our decision making is always best served by being tied up with our European neighbours."
He notes how doorstep pressure on Labour MPs over immigration today is mixed up with anti-European feeling.
"What we need to try and do on Europe is to say 'look, actually we understand what you're saying and this is how we're tackling it'."
Questioning Labour's commitment
What that suggests is, in some areas at least, a looser British relationship with the EU while its eurozone core becomes much more united.
And that is the key issue facing those planning a potential Labour government's approach.
While recent Labour leaders have promised to be "at the heart of Europe" or "engaged with Europe" what would that mean if the UK remains outside the euro?
What kind of deal would a Labour government seek for Britain as the eurozone unifies - and how would that deal be sold to British opinion?
"The Conservatives have a clear policy of re-negotiating, which they might or might not succeed in doing," says Charles Grant of the of the CER.
"Labour at the moment doesn't have a clear strategy of how it would change or maintain Britain's relationship with the EU."
Overall, he concludes "there's roughly a 50/50 chance of Britain being in the EU at the end of the next parliament" - a calculation which, in his opinion, applies whether Labour or the Tories are in power.
The Labour leadership will continue to insist that it, uniquely, can make Britain's relationship with the EU work, and that MPs like Gisela Stuart and Thomas Docherty, who question its policy, are marginal figures.
But even leading Labour EU enthusiasts like Roger Liddle conclude cautiously:
"Labour is broadly a pro-European party. The question I suppose is how skin deep is the commitment."
The party knows that, instead of not talking about Europe, or simply criticising Tory divisions, it has to reinvent its own policy for a time of European crisis, austerity, and much public scepticism.
Listen to the full report on Analysis on BBC Radio 4 on Monday, 29 October at 20:30 GMT and Sunday, 4 November at 21:30 GMT. Listen again via the Radio 4 website or via the Analysis podcast.