Clegg: Economic recovery 'slow and fitful'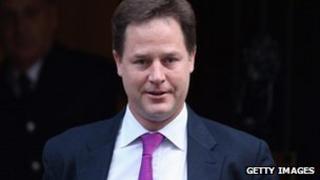 Britain's economic recovery is "slow and fitful" but on the right path, the deputy prime minister has said.
In a speech in the City, Mr Clegg said that repairing the economy after the 2008 financial crash was a "gradual healing process".
It comes ahead of the latest GDP figures, to be published on Thursday, which some analysts predict could show the economy has returned to growth.
Mr Clegg also argued for a "balanced" approach to Europe.
The UK has endured a double-dip recession with three successive quarters of negative growth.
However, forthcoming GDP figures are expected to show the economy grew in the three months from July to September, with the positive impact of the Olympics and a bounce-back after the Diamond Jubilee bank holidays.
'Sensible and centrist'
The Liberal Democrat leader told an audience of those working in financial services: "There's a lot of speculation about what tomorrow's GDP figures will bring.
"Whatever they look like, we know that, overall, we've set the economy on the right path. But recovery is slow and fitful.
"Repairing the damage following the shock in 2008 is a gradual healing process.
"And the government must remain absolutely focused on the reforms that will drive growth."
In what will be seen as a response to Foreign Secretary William Hague's claim that the British public's disillusionment with Europe is "the deepest it has ever been", Mr Clegg argued for a "balanced, engaged approach to Europe".
"We should be vigilant against knee-jerk or dogmatic responses to our economic challenges."
Prioritising lending to "sound business" and creating a more responsible corporate culture will help the economic recovery and ensure Britain's long-term success, Mr Clegg said.
The Liberal Democrat leader also used the speech to promote his party as one that supports British business.
He said: "I want you to be confident that my party is on business' side.
"That we are determined to put the private sector at the heart of a strong, rebalanced economy.
"That we will be sensible and centrist; pragmatic - not dogmatic - at all times."