Draft Communications Data Bill could lead to 'police state'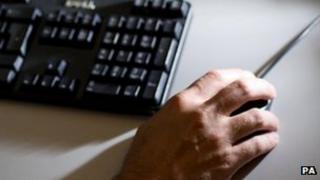 Plans to monitor all Britons' online activity could move the UK closer to becoming a "police state", a parliamentary committee has been told.
Journalist Henry Porter told MPs and peers transparency was needed on the use of the powers to avoid too much power being in the hands of the police.
Ministers want to strengthen the law on internet data retention to help the police tackle security threats.
They say law enforcement agencies need to keep pace with changing technology.
Under the government's plans, currently being scrutinised by Parliament, service providers will have to store details of internet use in the UK for a year to allow police and intelligence services to access it.
Records will include people's activity on social network sites, webmail, internet phone calls and online gaming.
Civil liberties campaigners have described the proposals as a "snooper's charter".
The draft Communications Data Bill requires any request for this kind of data to be "necessary and proportionate" and verified by a senior police officer.
'Not fit for purpose'
But Mr Porter, a regular columnist for the Observer who was giving evidence to a joint committee of MPs and peers, said this safeguard was not good enough and the bill was "really dangerous".
"I don't believe this entire nation should subject itself to massive surveillance campaign by a few people who appear to be unscrutinised and the methods untransparent," he said.
He raised concerns about a recent spread of numberplate recognition technology and face recognition CCTV cameras without proper scrutiny by parliament.
This spread, together with the proposed bill, was "part of a very, very serious move towards what could easily become the structure for a police state," he said.
"It seems mad for a democracy to even be considering this kind of behaviour. I amazed we're in this room actually countenancing this legislation."
"If we let it get through in it's current vague terms and then things are just added on and nobody pays any attention we won't have a democracy," he added.
Fellow witness Duncan Campbell, an investigative journalist, also expressed concerns about whether the bill would achieve what it set out to, and whether evidence gathered from the internet under the new system would be admissible in court.
He said: "It is fit proper and necessary that interception of communications and processing of communications data be available as part of the armoury.
"That is not my problem with this bill. My problem is that it's not fit for purpose. It's not been thought through and it isn't going to work."
However, Keir Starmer, director of public prosecutions, said in his view that the bill would achieve its objectives.
He said: "We use communications data at the moment routinely and it would allow us to continue to do so.
"Admissibility has not been a problem in the past. I don't anticipate that's going to be a particular problem going forward.
"There may be practical difficulties. There will of course be challenges. But I do not believe, on the basis of what I've read and discussed, that there would be difficulties in using this information in the future," he added.