Date set for three parliamentary by-elections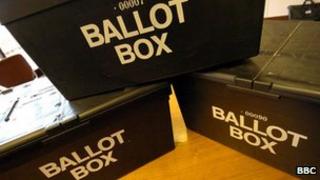 Three parliamentary by-elections have been set for 15 November after three MPs - two Labour and one Conservative - stood down.
Tory Louise Mensch quit as MP for Corby, while Labour's Tony Lloyd and Alun Michael vacated the Manchester Central and Cardiff South seats to run to become police commissioners.
The writs for the by-elections have now been moved.
The contests are to take place on the same day as the commissioner elections.
Voters in Bristol will also get the chance to elect a mayor for the first time, following a referendum in favour of the change in May this year.
No date has yet been set for a by-election in Middlesbrough, following the death of Labour MP Sir Stuart Bell earlier this month.
The police and crime commissioners will replace police authorities in 41 areas and will be paid a salary between £65,000 and £100,000.
Mr Lloyd, chairman of the Parliamentary Labour Party since 2006 until earlier this year, is the party's candidate for the Greater Manchester area.
Former Welsh Secretary Mr Michael, who was first elected in 1987, is a candidate for the South Wales area.
Ms Mensch resigned as an MP, having represented Corby since 2010, to move to New York.