Tony Lloyd and Alun Michael quit Commons to fight police election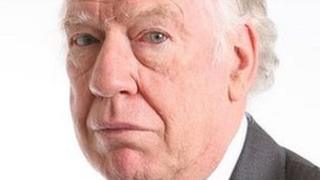 Veteran Labour MPs Tony Lloyd and Alun Michael have resigned from the House of Commons so they can stand to be police and crime commissioners.
This will trigger by-elections in their Manchester Central and Cardiff South and Penarth seats.
These are expected to take place, along with four other by-elections and a mayoral election, on 15 November - the same day as the police elections.
Mr Lloyd and Mr Michael have both been MPs for more than 25 years.
The resignation of Conservative MP Louise Mensch and the recent deaths of Labour's Malcolm Wicks and Sir Stuart Bell mean by-elections are due in Corby, Croydon North and Middlesbrough.
And following the decision of Martin McGuinness to resign as an MP in order to avoid so-called "double-jobbing", by holding a seat in both the House of Commons and the Northern Ireland Assembly, a by-election is also expected in his Mid Ulster constituency.
Mr McGuinness, who along with other Sinn Fein MPs has never taken his seat at Westminster, has yet to formally resign.
Although writs have not been moved setting a date for these contests, they are widely expected to be held on the same day as voters in all parts of England and Wales outside London elect police and crime commissioners.
On the same date, voters in Bristol will also get the chance to elect a mayor, following a referendum in May this year.
The police and crime commissioners will replace police authorities in 41 areas and will be paid a salary between £65,000 and £100,000.
Tony Lloyd, chair of the Parliamentary Labour Party since 2006, is Labour's candidate for the Greater Manchester area.
At the last election he secured a Labour majority of over 10,000 in his Manchester Central seat.
Former Welsh Secretary Alun Michael, who was first elected in 1987, is Labour's candidate for the South Wales area.
He replaced former Labour prime minister Jim Callaghan in the seat of Cardiff South and Penarth, which he held at the last election with a majority of 4,709.