David Cameron promises to defend British interests in Europe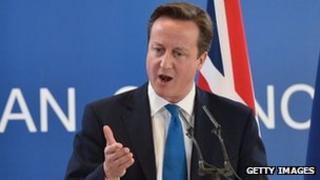 Prime Minister David Cameron has promised to ensure the UK's interests are defended as eurozone countries move towards a banking union.
He told MPs there had been "limited progress", but added that this should not affect the "single market".
Mr Cameron also called for a "rigorous settlement" to ensure the EU's budget does not rise by more than inflation.
But Labour leader Ed Miliband accused him of "losing control" and alienating the UK's supporters in Europe.
Mr Cameron's statement to Parliament followed a summit of EU leaders last week.
At the Brussels meeting, eurozone leaders agreed to start building a banking union on 1 January to speed up economic integration. This included allowing the European Central Bank to intervene in any of the eurozone's 6,000 banks.
'Essential'
This would not affect the Bank of England, as the UK is not part of the eurozone. But Eurosceptics have raised concerns that European Union institutions could be used to undermine the City of London's pre-eminence in finance.
Mr Cameron told the House of Commons there had been some "limited progress" among eurozone countries towards integration, and that it needed a "working banking union" to ensure stability.
He added: "It's also essential that the... single market is protected."
Mr Cameron said: "Britain's banks will be supervised by the Bank of England... but we do need eurozone members to get on and form a banking union."
He also pledged to fight to make sure the EU's budget would not increase by more than the rate of inflation over the next few years, saying: "We have not put in place tough requirements in Britain to go to the EU and agree to big increases.
"I put down a marker that we need a rigorous settlement."
The German government has denied reports that Chancellor Angela Merkel is prepared to cancel next month's EU summit unless Mr Cameron lifts a threat to veto a rise in the budget.
Mr Cameron said: "I don't believe that German voters want that any more than British voters, and that's why our governments have led the argument in Europe for fiscal restraint."
'Shambles'
But Mr Miliband said: "The reality is he has lost control of his party on Europe. We have a prime minister outside the room looking in at Britain's empty seat at the table.
"There's one thing that our allies in Europe and the British people can agree on: his government's a shambles and it's Britain that suffers."
Mr Cameron has said a referendum would be the "simplest" way of establishing the UK's future position in the EU, should such a matter arise.
Conservative MP Philip Davies argued this would not go far enough, and leaving the EU should be an option, saying: "He may find an in/out referendum undesirable, but I find his in/in referendum equally unacceptable. Only an in/out referendum will do for the British people, it will be in his very much best interests if he would stop resisting it."
Mr Cameron replied that, on this issue, he did not agree with his colleague, adding: "Many people, me included, are not satisfied with the status quo, and that's why the in option is not acceptable.
"But many people, also like me, do not want us to leave altogether because of the importance of the single market to Britain, a trading nation, so they don't want to be out. That's why I think an in/out referendum isn't the right answer."