David Cameron criticised over Andrew Mitchell police saga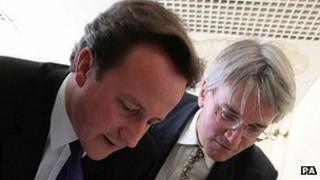 David Cameron is facing continued criticism from within his party in the wake of former Chief Whip Andrew Mitchell's resignation.
MP Andrew Percy said he was "staggered" No 10 had not realised the scale of the problem earlier and Mr Cameron's circle of advisers was "too narrow".
Tory peer Lord Tebbit said Mr Cameron had allowed "this dog of a coalition government" to look incompetent.
But Education Secretary Michael Gove said the government was "delivering".
Mr Mitchell quit on Friday, more than five weeks after a confrontation with Downing Street police officers, saying his position had become untenable.
He has admitted swearing during the confrontation, over whether he could take his bicycle through the main gate in Downing Street, but denies claims he called the officers "plebs".
His exit came after a week of negative headlines for the government over its energy and transport policies, and fresh claims that senior figures in the Conservative party were out of touch with the public.
'Managerial discipline'
Mr Percy, MP for Brigg and Goole, is one of a number of backbenchers to suggest the prevarication over Mr Mitchell's future is symptomatic of wider problems within No 10.
"It just struck me at the time that it was just something that was not going to go away," he told Radio Four's The World This Weekend. "It was going to run and run.
"It fed into this unfair perception the electorate have about us. So I was frankly at the time a bit staggered that Downing Street hadn't picked up on the whole mess earlier."
Backbenchers should have great input into decision-making, he suggested. "This is a question to be asked about the whole Downing Street operation. I do feel that the Downing Street machine is too narrow."
Writing in the Observer, Lord Tebbit said: "This dog of a coalition government has let itself be given a bad name and now anybody can beat it. It has let itself be called a government of unfeeling toffs."
Previous governments, including the Thatcher administration in which he served, had more people from upper-class and aristocratic backgrounds than the current one, he suggested.
"The government's abiding sin is not that some ministers are rich but that it seems unable to manage its affairs competently," he said, adding that Mr Cameron needed to impose "some managerial discipline not just on his colleagues but on himself".
"Had Ed Miliband concentrated his fire on a long list of muddles, from the proposed sale of our national forests to the BAE and energy policy muddles of recent days, it would have been far worse," he added.
Mr Mitchell's resignation had been sought by Labour and the Police Federation, which represents rank and file officers, but opinion was split within the Conservatives on whether he should stay or go.
'Decent guy'
Mr Gove told Sky News he wanted Mr Mitchell to stay on but that the former chief whip, whom he described as a "decent guy", had concluded his position had become "compromised".
But the education secretary denied suggestions the episode showed how much ministers were disconnected from ordinary concerns.
"It is always the case in politics that you will find there are weeks where the headlines are populated by stories that are of interest to the 'Westminster village' and contain an element of human drama.
"But for most people, are just part of the sort of froth of political life and not central to the concerns which determine how they will vote and live their lives."
"All of these stories reflect the underlying fact that the economic strategy that George Osborne has chosen, the NHS reforms introduced by Andrew Lansley... are both delivering.
Meanwhile a Comres survey for The Independent on Sunday and the Sunday Mirror says Labour has seen its support rise by two percentage points in the past month to 41%, while David Cameron's Tories have dropped two to 33%.
The Liberal Democrats are unchanged on 10%, just one point ahead of the UK Independence Party, up one on 9%.