Testing the powers of Yorkshire's police commissioners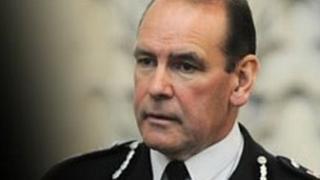 Some of Yorkshire's brand new police and crime commissioners could have their powers tested to breaking point within hours of being elected.
How will they deal with the increasingly loud calls to discipline, suspend or even sack their chief constables?
West Yorkshire's Chief Constable Sir Norman Bettison is under scrutiny for his role 23 years ago in the police operation at the Hillsborough disaster and its aftermath.
Sir Norman, who was a senior officer with neighbouring South Yorkshire at the time, says he did nothing wrong and his conscience is clear.
At the same time David Crompton, the relatively new chief constable of South Yorkshire, faces strong criticism from MPs over allegations that his force has ignored evidence of the widespread grooming and sexual exploitation of young girls by organised gangs.
He admits the force has made mistakes in the past but has been finding it difficult to convince a powerful committee of MPs that the force is improving.
Decades of disbelief
Police and Crime Commissioners will have the power to take action against poorly performing chief constables - including replacing them.
As far as members of the Hillsborough Family Support Group are concerned that is exactly what the new commissioner for West Yorkshire should do with Sir Norman Bettison.
Trevor Hicks is one of them. The businessman from Giggleswick in North Yorkshire lost his two daughters Sarah, then 19, and 15-year-old Victoria in that fatal crush.
He told me that he has spent the past two decades "being disbelieved" as one of the most vocal advocates of the group.
The families have always claimed fans had been cynically blamed for causing the disaster, and a systematic cover-up had shielded gross mismanagement by the police.
Now official paperwork locked away for all that time has proved the families right.
Trevor believes a new investigation by the Independent Police Complaints Commission will show Sir Norman Bettison, at the time a senior officer in the South Yorkshire force, is one of those responsible for those years of injustice.
It's a charge Sir Norman utterly denies.
"I'm glad Norman Bettison has realised his position is untenable", he told me when we met outside the Houses of Parliament a couple of hours after the Attorney General had announced he was asking the High Court to quash the "accidental death" inquest verdicts on all 96 victims.
For Trevor Hicks that was a vindication of the campaign by the families but it is far from the end of the matter.
"I want to make sure he does not escape scot free. I will keep campaigning until he goes and is stripped of his knighthood," said Mr Hicks.
Prosecution rates
David Crompton, the South Yorkshire chief constable, was recently under the steely glare of Keith Vaz, the Chairman of the Home Affairs Select Committee of MPs.
Summoned to appear at its October meeting, he was told in no uncertain terms that the committee was finding it difficult to accept his reasons for the force's poor prosecution rate for the shocking crime of grooming and sexual exploitation of young girls by organised gangs.
As the meeting went on he became visibly more uncomfortable.
Mr Crompton has been ordered to write a report and give a better explanation.
That should be landing on Mr Vaz's desk within days of South Yorkshire's first Police and Crime Commissioner taking office.
It will be interesting to see what happens after that.