George Osborne 'forced to pay £160 first class train upgrade'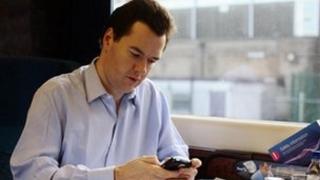 George Osborne has been forced to pay for an upgrade after sitting in a first class train carriage with a standard class ticket.
An aide to Mr Osborne initially refused to pay the £160 supplement and said the chancellor did not want to move into standard class, Virgin Trains said.
ITV reporter Rachel Townsend, who was on the same train as the chancellor, Tweeted about the incident.
The chancellor did not comment when he arrived at Euston station.
A Treasury source said Mr Osborne got on a different train from the one planned due to diary change. He had no seat reservation.
The source said the chancellor was happy to pay for an upgrade, for which an aide paid.
'Correct ticket'
Mr Osborne was unaware of any conversation with the train manager let alone any row, said the source.
In a series of tweets, ITV reporter Rachel Townsend, who works for Granada Reports in the North-West of England, said: "Very interesting train journey to Euston Chancellor George Osborne just got on at Wilmslow with a STANDARD ticket and he has sat in FIRST CLASS...
"His aide tells ticket collector he cannot possibly move and sit with the likes of us in standard class and requests he is allowed to remain in First Class.
"Ticket collector refuses... I am a carriage away from the action but have asked ticket inspector if he was going to let him stay "no chance"
"£160 for First Class upgrade... aide says no!..
"Breaking news: George Osborne pays £160 to stay in first class!"
Mr Osborne is understood not to have had any direct communication with Virgin Trains staff - and an officer from the Metropolitan Police, who was escorting the chancellor, is reported to have told the train manager in advance that Mr Osborne did not have the correct ticket.
Once on the train, the manager told the officer Mr Osborne would have to pay an upgrade fare, a request which Mr Osborne's aide initially refused, according to Virgin Trains.
But after being asking for a second time, the aide agreed that the extra £160 would be paid.
A crowd of journalists and photographers, who have been following the story on Twitter, gathered at Euston in the hope of quizzing the chancellor about the incident.
'Out of touch'
Labour have been quick to seize on the row, with shadow cabinet officer minister Michael Dugher saying: "Another day, another demonstration of how out of touch this government is.
"Just like Andrew Mitchell, George Osborne obviously thinks it's one rule for him and another for the plebs he's so keen to sit apart from. So much for 'we're all in it together'."
On his website, Mr Osborne boasts about helping to save direct train services between London and Wilmslow, which he uses to commute from his Tatton constituency, in Cheshire.
On its website, Virgin Trains warns travellers they will be charged an excess or penalty fare if they board a train without a ticket or attempt to change from standard to first class without a first class ticket.
If you do not produce a valid ticket when asked, "you could be refused travel entirely or asked to leave a train or station before you have completed your journey," it adds.