Galloway's former aide rejects MP's 'dirty tricks' claim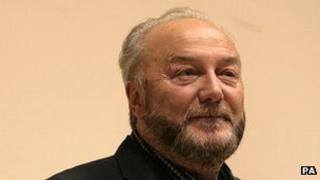 A former aide to Respect MP George Galloway has denied his claim that she plotted a "dirty tricks" campaign against him with a Met police counter-terrorism officer.
Mr Galloway alleges the two tried to discredit him in the media and used his home to conduct an illicit affair.
But ex-aide Aisha Ali-Khan told the Guardian she is married to the officer and the MP must have known this.
E-mails between the two were "jokes" not evidence of a plot, she added.
She has filed a complaint with the Metropolitan Police, accusing Mr Galloway of hacking into her private e-mails or asking someone else to do so.
Mr Galloway said the e-mails, which he describes of "incontrovertible evidence" of a plot, had been obtained by his lawyer.
The MP for Bradford West made the allegations in an Early Day Motion to Parliament and has urged the home secretary to investigate, suggesting the two worked together to "damage" and "blacken" his reputation.
The MP accused the counter-terrorism S015 officer, named by him as Afiz Khan, of entering his home without consent, of setting up fake e-mail accounts and a Facebook alias to spread "disinformation" about him.
'Lost credibility'
He accused Ms Ali-Khan, his then assistant, of acting as the officer's "agent" in his constituency office.
Mr Galloway said he had been introduced to the officer over the summer by Ms Ali-Khan, who he had recently hired to work in his Bradford office, and told he might act as a "security adviser" following a recent burglary at his London home.
The MP said it was his understanding, at the time, that the two were in a relationship but that he had subsequently discovered they had slept together under his roof without his knowledge when he was abroad.
Mr Galloway has accused the officer of making a series of allegations against him, including electoral fraud in his March by-election victory, which Mr Galloway has dismissed as "utter tosh".
The officer has been placed on restricted duties by the Metropolitan Police, a standard procedure while an internal investigation is being conducted.
Ms Ali-Khan has been suspended on full pay but, reports The Guardian, she is not expecting her job back.
In an interview with the newspaper, she questioned Mr Galloway's version of events, saying "not only have I lot my job and my credibility but I have been branded this tart sleeping with random police officers".
'Not IT literate'
She told the Guardian she had, in fact, been married to Afiz Khan since 2009 and he was listed as her spouse in a questionnaire she filled in to get security clearance to work in the House of Commons, which Mr Galloway signed.
She was also insists she was upfront about her husband's role in the Met - which Mr Galloway suggested was to "investigate radical Muslim groups" - and this was "never an issue".
The couple never slept together in Mr Galloway's house, she insisted, but Mr Khan "popped in" one night to use the toilet.
She has admitted asking Mr Khan to set up a fake e-mail address so that she could send messages to The Guardian when she discovered the newspaper was planning a story about Mr Galloway six months on from his by-election victory.
She said Mr Khan set up the account for her because "I'm not literate with computers," reports the newspaper, a claim, it adds, Mr Galloway describes as "laughable".
She defended e-mails she exchanged with Mr Khan about aspects of the Bradford West campaign and Respect's tactics, saying they were innocent in nature and not evidence of a conspiracy against the MP.
Responding to Ms Ali-Khan's claims, Mr Galloway said she had once introduced him to a different man in Bradford who she described as her estranged husband. On reading the Commons questionnaire, he said, he would have assumed it was this man.