MPs expenses: 22 MPs get 'dual income' from London homes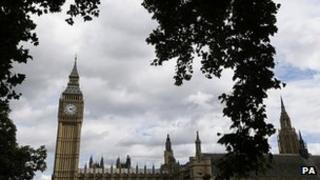 MPs are claiming rent on taxpayer-funded second homes in London at the same time as letting out other properties in the city.
The BBC has found that 22 MPs have such arrangements, which do not breach the rules but raise further questions about loopholes in the expenses system.
One MP said he had "no choice" but to rent out a property he owned and live elsewhere since the rules had changed.
David Cameron said it was a matter for the independent expenses watchdog.
The Independent Parliamentary Standards Authority (IPSA) said it was up to MPs how they handled their living arrangements and the current expenses system was designed to be fair to both Parliamentarians and taxpayers.
Senior Conservative, Labour and Lib Dem figures are among the MPs to claim the cost of rent on subsidised second homes while also receiving rental income from other properties in London.
The amount of rent and associated costs MPs can claim in London was capped at £1,450 a month in a far-reaching overhaul of the system in 2010, which also stopped MPs being reimbursed for mortgage interest payments on properties they owned.
The latest allegations were revealed in The Daily Telegraph, the newspaper which broke the expenses scandal in 2009.
In its latest report, the newspaper says 27 MPs are claiming for homes in London while simultaneously letting property in the capital.
But, according to research by the BBC, five of the MPs named are not currently engaging in the practice.
Meg Munn used to have this arrangement but the Register of Members Interests says that it ceased in April 2012.
Jim Murphy has claimed £101.76 in relation to service charges and telephone costs but has not claimed for rent.
George Freeman rents out his London flat and has claimed for £1,200 in hotel bills.
However, Mr Freeman contacted the BBC to deny this - he said he did not have a taxpayer-funded second home in London and never stayed in a hotel.
Chris Bryant and Ian Davidson have not made any claims for accommodation this financial year.
One of the MPs who does have a "dual income" from property, former defence minister Peter Luff, said he had bought a property in good faith under the old system but could no longer afford to meet the mortgage interest payments after the change in the rules.
Writing on his website, Mr Luff, a Conservative MP, said he had "no choice" but to either sell it or vacate the property and rent it out.
Mr Luff said he was now living in a rented flat in preference to staying in a hotel, the other option allowed under the new rules. IPSA's rules were "well-meaning" he said, but they had resulted in increased costs to the taxpayer.
Another MP on the list, Lib Dem former defence minister Nick Harvey, told BBC News: "Unfortunately the new system of MPs expenses means that I cannot live in my own house and I'm driven to renting a flat nearby."
IPSA, which has policed expenses since 2010, said it was not its business what MPs did with their properties.
"This is an issue of their own private financial affairs over which we rightly have no authority," it said in a statement. "We cannot say an MP should not own a property or properties or restrict what they do with those properties on the open market."
Speaking at an EU meeting in Brussels, the prime minister said all complaints about the system should be directed to the watchdog.
"Transparency should clearly be at the heart of the system but we must let IPSA get on with the job of policing properly the MPs expenses regime," he said.
It has also emerged that four MPs are currently sub-letting their subsidised properties to other MPs, who are then claiming back the cost of rent on expenses.
Such an arrangement is allowed under the system - which only bars MPs from renting from family members and those with whom they have a "business interest" - but some MPs are alarmed about how the arrangement will be perceived.
Labour MP Iain McKenzie, who rents a flat from colleague Linda Riordan, told the Daily Mail: "If I had known beforehand that the flat was owned by an MP then I probably wouldn't have taken it.
"You've got to apply the test of how it looks to the man in the street, regardless of whether it's above board or not."
IPSA is currently considering a Freedom of Information request asking it to release details of who MPs rent their properties from, information which is currently private.
Commons Speaker John Bercow has warned against the move, arguing MPs addresses are kept confidential by law and releasing details of their landlords could lead to their disclosure and jeopardise their security.