Andrew Mitchell 'pleb' row: Labour MPs plan full debate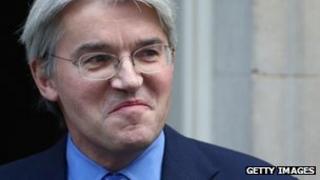 Labour has tabled a Commons debate on policing to give MPs a chance to discuss claims that Chief Whip Andrew Mitchell swore at police officers.
The debate is scheduled for Wednesday, when the opposition has the chance to choose the subject for discussion.
The chief whip is alleged to have called police "plebs" when officers stopped him from cycling through a Downing Street gate.
The minister denies using the term but has apologised to the officers.
Labour sources told the BBC they expect a large part of their opposition-day debate to be devoted to the incident.
At prime minister's questions on Wednesday, Labour leader Ed Miliband pointed to the chief whip, sat opposite him on the government benches, and said he was "toast", claiming his Conservative colleagues were briefing against him.
'Masticating'
Later that day a meeting of the 1922 Committee, a group of backbench Conservative MPs whose confidence Mr Mitchell must retain in his role as chief whip, was reported to be largely supportive of him.
But backbench Labour MPs showed no signs of letting the row die as they gathered in the Commons chamber on Thursday for questions on forthcoming business.
Labour backbencher Clive Efford told MPs: "The worst aspect of what the chief whip said to those police officers was that they should know their place."
He urged Mr Mitchell to "give us the truth about what happened, but also give those of us who consider themselves to be plebs an opportunity to know just exactly what our place is".
Labour's Nic Dakin added that for "several weeks now the chief whip has struggled to answer questions about what exactly he said outside Downing Street".
Commons Leader Andrew Lansley complained that the opposition was exploiting the row to "make political capital".
"It's all very well trying to make political capital on the opposite side, but, actually, from our point of view, we support the police and we are getting on with that job and the chief whip is getting on with that job and doing a grand job doing it," he said.
But the opposition soon found a new line of attack, when Mr Mitchell took up his seat in the Commons chamber.
Labour's Wayne David demanded to know whether his behaviour was in breach of parliamentary rules.
"Given that the chief whip has been chewing for most of this session, is it appropriate for masticating to be allowed in the chamber?" he asked Commons Speaker John Bercow.
His point of order prompted laughter on the Labour benches, although Mr Bercow refused to rule on the matter.