MPs urge battalion cut re-think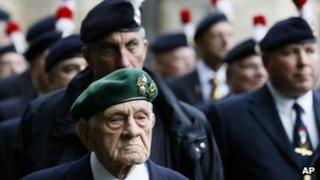 MPs have backed a motion calling for the government to reconsider its decision to axe the Second Battalion, the Royal Regiment of Fusiliers (2RRF).
A Commons motion by MP John Baron asking for the cut to be reversed was supported by 57 votes to three.
Earlier, more than 400 regiment veterans marched along Whitehall in protest at the axing of the battalion.
The Ministry of Defence said "difficult" financial decisions had to be taken as part of wider Army changes.
The 2RRF is to be disbanded in 2014, as part of cuts involving a further three infantry battalions.
The four infantry battalions are being abolished and one is being downgraded under the government's plans to reduce the size of the Army by a fifth.
The plans, announced in July, will see the Army reduced by 20,000 to to 82,000 regular soldiers by 2020.
An MoD source said there were no plans to change the Army's plans.
An MoD spokesperson added: "We acknowledge the result of the backbench debate which is an expression of some MPs and not binding.
"Difficult decisions had to be taken to get defence back on a sustainable and fully funded footing. This included changes to the Army structure... Army 2020 decisions were taken in July and are now being implemented."
MPs accused the government of cutting 2RRF, an English battalion, as a "political fix" to avoid scrapping Scottish battalions ahead of the Scottish referendum.
The protesters wore their regimental berets and badges as they marched along Whitehall to Parliament, where a rally was held.
Serving soldiers were not allowed to take part. A former colonel said the march was the first of its kind since the days of Cromwell.
'Big mistakes'
Conservative MP Mr Baron, who served in the regiment himself, told the Commons after the march as many veterans looked on from the public gallery: "The government is wrong. Military logic and not political calculation should determine Army cuts.
"I'm a firm believer in the Union but this is not the way to achieve it. In my view, the government's culpability is demonstrated by its reluctance to justify its decision."
Earlier he had said: "Government interference to save poorly recruited Scottish battalions smacks of a political fix in the lead-up to the Scottish referendum."
The referendum on independence for Scotland is due to be held in autumn 2014.
The MPs claim that 2RRF was earmarked for disbandment after the government changed its criteria for cuts so that only one battalion from each regiment could be axed, with no loss of historic cap badges.
The MPs say this has resulted in "more poorly recruited Scottish battalions being saved".
Mr Baron said he believed 2RRF had both a strong recruitment record and encouraging demographics in its home areas.
Tory MP Gerald Howarth, who was until last month a minister at the Ministry of Defence, said: "As a defence minister who came in in 2010, I and my colleagues found it extremely painful to have to make these very difficult decisions.
"But one of the reasons we did so is because we inherited a budget deficit of £156bn and therefore to retain the confidence of the international capital markets, something had to be done.
"But can I say, I share a belief there is an alternative. I never said in government there is no alternative: there is an alternative.
"That is to reprioritise government spending. My view is we cannot justify spending ever more taxpayer's money on overseas aid and cutting our Armed Forces."
Army recommendations
An Army spokesman responded to the MPs' claims, saying: "To suggest decisions were taken on recruitment performance alone is a fundamental misunderstanding of the Army's process.
"The Army took account of a number of criteria to determine which infantry battalions would be withdrawn under Army 2020.
"These included a balance across the broader infantry structure and the capability roles within it; demographic sustainability of regiments according to projected regional supply of recruits; and taking account of previous decisions on mergers and deletions.
"The Army also considered proportionality of outcome, with no cap badge deletions and no regiment losing more than one battalion in a reorganisation, when recommending to ministers which infantry battalions would be withdrawn."