UK must plan for Mumbai-style attack, says minister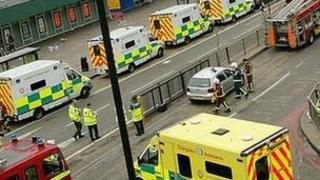 The emergency services must be better prepared for a lone gunman or Mumbai-style terror attack on Britain's streets, a minister has warned.
James Brokenshire said Britain has to be ready for a terror attack "in whatever form it takes".
That includes a fast-moving attack by a lone gunman of the kind seen in recent years in Oslo or Toulouse, he added.
Home Secretary Theresa May has asked the emergency services "to make further improvements to the joint response".
The BBC's security correspondent Frank Gardner said the emergency services were working together under a single strategic command to prepare themselves for potential "worst-case scenarios", including the use of a radiological device.
'Staying ahead'
Officials, he added, had been concerned about the possibility of an attack during the Olympics from a variety of sources, including a lone terrorist sympathetic to al-Qaeda, but the event had gone "without a hitch" as far as they were concerned.
In a speech to security experts at the Royal United Services Institute (Rusi) in central London, Mr Brokenshire said the Olympics had been a "security success story".
But he warned that recent atrocities in other countries showed that terrorists were capable of adapting their tactics to "achieve a devastating effect using relatively unsophisticated means".
A gunman with alleged links to al-Qaeda, Mohamed Merah, killed seven people in France's worst terror attacks in years near Toulouse in March. Lone gunman and far-right extremist Anders Breivik killed 69 people in Oslo last year.
In 2008, 166 people were killed in the Mumbai terror attacks.
Mr Brokenshire said the British government intended to improve the way emergency services "work together in response to a major incident".
He added: "The experiences in Toulouse and in Norway demonstrate the impact that a lone individual can have if sufficiently motivated, while the November 2008 terrorist attacks in Mumbai were characterised by an ongoing firearms and explosives attack, and by hostage-taking.
"The overall aim is to ensure that the blue light services are trained and exercised to work together as effectively as possible in response to a major incident, including fast-moving terrorist scenarios, so that as many lives as possible can be saved."
The minister for security explained that the programme will "build upon" previous work by the joint emergency response to specific risks, "including a marauding terrorist firearms attack and incidents involving chemical, biological, radiological or nuclear substances".
He concluded: "Staying ahead of the threat means ensuring our emergency response is capable of dealing with the threat in whatever form it takes."
Different threats
Rusi warned earlier this year that the UK could face a growing threat from "lone wolf" terrorists returning from fighting overseas.
It estimates that about 50 Britons are fighting with Somali extremists al-Shabab and that returnees from the long-running conflict in the African country and other war zones could use their experience on UK streets.
In its report, the think tank said single operators and "self-radicalised" jihadi terrorists posed a particularly grave risk because they were hard to track down.
Despite the UK threat level being reduced from "severe" to "substantial" last year, Rusi insisted that the threat from jihadist terrorism had not diminished.
In his speech, Mr Brokenshire warned that al-Qaeda and other terrorist groups have seized on instability in the West African country of Mali to train a new generation of adherents and they could pose a threat to the UK.
The government was also recently warned against neglecting the threat from far-right extremism.
The Home Affairs Select Committee suggesting the government's anti-radicalisation strategy only "paid lip service" to the risk of attacks from individuals linked to groups on the continent.