UK human rights boycotts are inconsistent, say MPs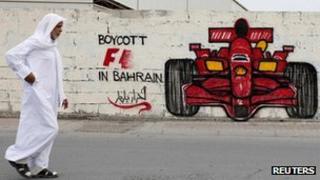 The UK government has been accused of inconsistency in its dealings with other countries over human rights.
The Commons Foreign Affairs Committee compared the boycott of the Euro 2012 football championships in Ukraine over human rights, with ministers not taking any action over the Bahrain Grand Prix.
It said Bahrain should be on a list of "countries of concern" after the "brutal" suppression of protests.
But the Foreign Office insisted the UK had a "strong record" on human rights.
UK ministers declined to visit Ukraine for matches involving England this summer, following the imprisonment of opposition leader Yulia Tymoshenko.
The government came under pressure to support calls for a boycott of the Formula One Grand Prix in Bahrain in April amid fears that it could be a catalyst for a renewed crackdown on protesters, following actions last year.
'Contradictions'
Prime Minister David Cameron refused, arguing "Bahrain is not Syria" and that a process of reform was under way - although ministers have since acknowledged that progress has been "minimal".
But the committee said the UK should not have different approaches for different countries when it came to human rights abuses.
"There were a number of calls for a boycott of the Bahrain Grand Prix earlier this year, which the government didn't join, and yet at the same time ministers decided not to attend the early rounds of the European football championships in Ukraine," Richard Ottaway, the Conservative MP who chairs the committee, told BBC Radio 4's Today.
"What we're saying is, whichever side of the argument you're on here - and people in the human rights sector are on both sides of the argument - that there has to be some form of consistency.
"We think perhaps the government should make clear what their approach is to international boycotts and sanctions before going one way in one case and another in another case."
The committee accepted it was "inevitable" that there would be occasional conflicts between the UK's strategic, commercial or security-related interests and its human rights values and a "balance" had to be struck.
"In our view, it would be in the government's interest for it to be more transparent in acknowledging that there will be contradictions in pursuing these interests while promoting human rights values," it said.
"The government's role should be publicly to set out and explain its judgements on how far to balance the two in particular cases, having taken into account the need to adapt policy according to local circumstances and developments."
'Part of DNA'
A Foreign Office spokesman said it welcomed the report and its acknowledgement of the UK's "strong record in upholding human rights across the world".
He added: "Human rights are essential to and indivisible from our foreign policy objectives.
"They are part of our national DNA and are woven deeply into the decision-making processes of our foreign policy at every stage.
"We cannot achieve long-term security and prosperity unless we uphold our values. We promote human rights painstakingly and consistently. Our starting point for engagement on human rights with all countries is based on what is practical, realistic and achievable, although we are always ready to speak out as a matter of principle."
Amnesty International said it shared MPs' concerns about how Bahrain and other traditional allies of the UK had been treated.
"The human rights records of both Saudi Arabia and Bahrain are deeply troubling and it's right that they are put under the microscope whenever the UK deals with these countries," said its UK head of policy Allan Hogarth.
"We'd like to see the UK government robustly defending its support of human rights principles in the Gulf, including tolerance of peaceful criticism, an extension of women's rights and investigations into the use of torture by the security forces."