Gibraltar border delays unacceptable, says UK government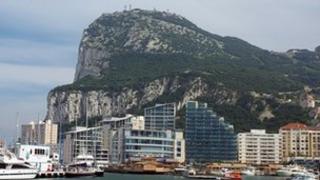 The UK government has condemned Spanish police for causing delays of up to six hours at the border with Gibraltar.
Foreign Office minister David Lidington called the hold-ups at the weekend "unacceptable", saying representations had been made at "a very high level".
The Spanish government said the delays had been caused by an anti-tobacco smuggling operation, he added.
But there had been no forewarning and the actions had come at a time of "tension", Mr Lidington said.
Spain has long contested the sovereignty of Gibraltar, a British overseas territory which is at the southern end of the Iberian peninsula.
On Sunday there were complaints that Spanish police had unnecessarily delayed people crossing the border.
'Partners'
In the House of Commons, Mr Lidington said they had been held up for between 45 minutes and six hours. He reassured MPs that waiting times had since been reduced to 20 minutes for people in cars and 10 minutes for those on bicycles.
Mr Lidington said: "The Spanish police justified the more rigorous checks as relating to anti-tobacco smuggling operations."
He added that there had been no warning that the operation was to take place, saying: "This current disruption comes at a time when there are tensions between Spain and Gibraltar as to fishing rights in Gibraltar's territorial waters."
He explained that Spanish people commuting to work in Gibraltar had been affected, saying: "These delays are unacceptable and have taken place at a border between EU partners."
Labour MP Jim Dobbin, who raised the matter of the delays in an urgent question, asked why the Spanish ambassador to London had not been summoned to explain the conduct, arguing that the Madrid government was trying to "undermine self-determination".
But Mr Lidington said this was not necessary, as Spanish officials "at a significantly high level" had already been contacted.
Liberal Democrat deputy leader Simon Hughes said Spain should warn the UK if it wanted to carry out similar operations in future, adding that this would be a "civilised" way to proceed.
The Scottish National Party's Angus MacNeil suggested the ambassador should be summoned by the UK government "every day" and be kept "waiting for five hours". Mr Lidington rejected the idea.