Regional pay for MPs considered by Ipsa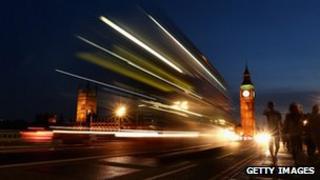 Lower salaries for MPs with second jobs and an end to final salary pensions are measures being considered as part of a wide-ranging review of MPs' pay.
The Independent Parliamentary Standards Authority (Ipsa), set up in 2009 after the expenses scandal, has launched a consultation on how MPs should be paid.
It says there is an "unprecedented opportunity to forge a new settlement between the taxpayer and the MP".
Any new system would come into force after the next election, in 2015.
The pay of MPs has long been a source of controversy, with some members complaining that, due to political pressure, their wages have not kept pace with similar jobs in the public or private sector.
MPs currently earn £65,738 - which has been frozen by Ipsa until March 2013.
The consultation marks the first time Ipsa, which has up until now focused on developing a new system of expenses, has looked into the issues of MPs' pay.
'Out of step'
In the past, MPs themselves have decided how much they get paid and what arrangements there should be for their pensions.
Ipsa says it recognises there may be criticism of the timing of the review given the current economic circumstances, but, it says "the history of the issue teaches us that there is never a good time".
It wants a new system to be sustainable over the long-term and not "vulnerable to the politics of the day".
The watchdog has gathered evidence from the public, MPs and commentators to inform a number of questions to which it is now seeking responses.
Its research suggests that MPs' pay is low compared with legislators in other developed countries - and also with lawyers, head teachers and local government chief executives.
However, an increase in pay is likely to be controversial at a time when public sector workers are facing a pay freeze.
One suggestion raised is a two-tier salary system with MPs who have outside earnings being paid less than those who do the job "full-time".
Figures show that 68 out of 650 MPs have outside earnings above £10,000 - with 18 MPs earning more than £100,000.
The consultation also raises the possibility of introducing regional pay for MPs - something the government is exploring for public sector workers - paying long-serving MPs more than new ones, or giving newly-elected MPs a similar salary to the one they received before they entered Parliament.
A system based on a multiple of the national average wage - approximately £23,000 - will be examined. Ipsa says they have recieved suggestions that MPs' pay be set at between 1.5 and 4 times this amount.
At the bottom end, this would see MPs' pay cut by around 50%, but if the higher multiple was introduced it could rise to £92,000.
On pensions, Ipsa says the final salary scheme currently available to MPs has increased in cost in recent years and, given reforms to public sector pensions, now "looks increasingly out of step with that available to other citizens".
"It requires reform to make it affordable, sustainable and fairer to taxpayers and MPs alike," Ipsa says.
This could involve an end to the final salary scheme with MPs moving to a career average scheme, as the government has done for other public sector employees, or a defined contribution scheme.
The consultation closes on 7 December. Ipsa plans to set the detail of its package for MPs in spring next year, with a new system in place after the next election.