Grant Shapps still hopes MP boundary changes will happen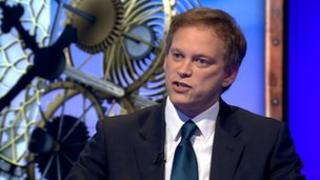 Conservative Party chairman Grant Shapps has told the BBC he "hasn't given up hope" changes to constituency boundaries will happen.
The Liberal Democrats withdrew their support for the changes after Conservative MPs refused to back changes to the House of Lords.
Mr Shapps told the BBC's Sunday Politics, he hoped the changes - to cut the number of MPs - would happen.
But he was "putting in place a strategy for us to win the election regardless".
The boundary changes would see the area that each MP represents (constituency) changed to be more equal-sized across the UK, with the number of MPs cut from 650 to 600.
After Conservative MPs effectively killed off the idea of House of Lords reform in August, Lib Dem leader Nick Clegg announced his party would oppose plans for boundary changes.
But Prime Minister David Cameron has insisted he will press ahead with the boundary changes plan and push it to a vote in Parliament.
Mr Shapps told Sunday Politics: "The vote has to take place next year... a year is a lifetime in politics, I think an awful lot can happen between now and then.
"I haven't given up hope for it because it was in the Coalition Agreement, because Nick Clegg came out very strongly and said it was right for the basis of fairness."
'Pavement politics'
He denied there were any talks going on about offering party funding changes in return for the Lib Dems supporting boundary changes.
And he said the Conservatives would now push ahead with selecting candidates for the existing constituencies for the 2015 election, with a focus on the 40 seats held by other parties which the party thinks are most winnable.
"We're going to defend our most marginal seats of course, the 40 that's marginal and we're going to go and attack the 40 seats that we will need to win and we're going to focus and target on those seats in a way that we've never done before.
"I think targeting is very, very important and it comes down to pavement politics and winning it seat by seat and showing people that we are the people, we're the party, we're the candidates who can best represent that local community."
Mr Shapps, said getting an overall majority was not impossible.
He said opinion polls were better for the party now, he said, than at the same stage in the parliamentary cycle during the 1980s.
He said the Conservatives were on the side of the "strivers". He rejected the idea of doing a deal with the UK Independence Party.
"We're not going to do a pact with UKIP anymore than I'm going to do a pact with the Lib Dems and go into the next election with them," said Mr Shapps.