'Lower the minimum voting age' for EU referendum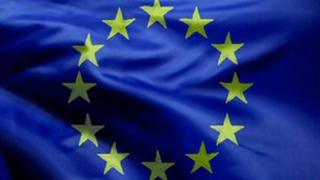 The government has been urged to let 16 and 17-year-olds vote in any referendum on the UK's future in the EU.
David Cameron has said a public vote would be the "simplest" way of dealing with such a decision, should it arise.
Liberal Democrat Lord Tyler said it would be "ridiculous" if the minimum age for taking part was not set at 16, as this is likely to be the case in the referendum on Scottish independence.
But minister Lord Wallace said the decision would be up to Parliament.
The prime minister has said he will meet Scottish First Secretary Alex Salmond next week to try to reach a deal on a referendum on Scottish independence, to be held before the end of 2014.
This is likely to involve allowing 16 and 17-year-olds to taking part, whereas the minimum voting age in UK elections is 18.
'Sensible'
Meanwhile, there are growing calls within the Conservative Party for a referendum on the future of the country's role in, or even membership of, the European Union.
This is seen as particularly likely if countries within the eurozone, of which the UK is not a part, integrate further.
On Tuesday, Mr Cameron told the BBC: "Europe is changing... that does open up the opportunity for Britain to get a fresh and better settlement."
He also said a referendum would be the "cleanest, neatest, simplest, most sensible" way to resolve the issue.
In the House of Lords on Wednesday, Lord Tyler asked: "Can my noble friend at least reassure your lordships' house that if the franchise is extended to 16 and 17-year-old Scottish citizens for this referendum which is now under consideration, that it will also be ridiculous not to extend it to English, Welsh and Northern Irish 16 and 17-year-olds for any following referendum on the European Union?"
Lord Wallace, a fellow Liberal Democrat, replied that it was his party's policy to extend the franchise to this age group, but it was not part of the coalition's plans.
He also told peers that each UK-wide referendum had to be individually approved by Parliament.
On each occasion, that meant setting out specific criteria for those able to take part, he added.
Lord Wallace, a former Deputy First Minister of Scotland, added: "If there was a referendum on the European Union, it would be a matter for Parliament to determine what that franchise is."