Analysis: What the NHS can expect from Jeremy Hunt?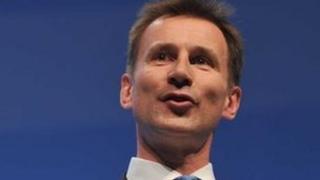 Jeremy Hunt has made an inauspicious start to life as health secretary since replacing Andrew Lansley a month ago.
He spent much of his first month in the job on holiday - a break that had long been planned after he had worked during the summer on the Olympics in his capacity as culture secretary.
This was followed by a weekend of headlines after he gave an interview to the Times in which he said he would like to see the abortion limit halved to 12 weeks.
But in a short 20-minute speech to the Conservative Party conference in Birmingham, Mr Hunt finally got the chance to set out what he wants to do. What did his appearance reveal about the sort of health secretary he is going to be?
It's what he didn't say that is most revealing
As always, it is important to look at the issues that were not mentioned as well as the ones that were.
Most obvious was the fact there was virtually no mention of the savings drive the NHS is currently undergoing.
The health service has been asked to find £20bn of efficiency savings by 2015 so money can be ploughed back into the front line.
The target is the most demanding the NHS has ever been given and comes at a time when the budget is effectively frozen.
While ministers have claimed it is achievable, evidence has started emerging that front-line care is being harmed.
There are reports that treatments, such as knee replacements and cataract surgery, are being rationed, while the number of nurses being employed has fallen.
No doubt Mr Hunt is aware of the problems brewing, but in not dwelling on them he is not giving the NHS any excuses for falling short.
There will be no shouting about the reforms either
The new health secretary did mention his predecessor's reforms, praising Andrew Lansley for being "brave".
These, of course, were the reforms that were pushed through in the face of tough opposition and which at one point threatened to split the coalition.
Unions expressed disappointment that he did not signal a change in tack, although this was never likely given that the overhaul has already gone through Parliament and is well on its way to being implemented on the ground.
Instead, what his speech showed - and briefings from his team confirmed - is that while he will not be making any drastic U-turns, he will be seeking to move attention away from the changes.
But he does want change of another kind
Instead of dwelling on Mr Lansley's revolution, Mr Hunt talked about one of his own.
Early in the speech he said: "If Andrew is the health secretary who helped give us the structures for a modern NHS, I want to be the health secretary who helped transform the culture of the system - to make it the best in the world at looking after older people."
In fact, it was a theme he returned to again and again.
He made reference to recent scandals, such as Mid Staffordshire and Winterbourne View, saying they should never happen again.
Managers - always a favourite target for politicians - should be held accountable for the quality of care being provided as well as the state of the finances, he said.
He also promised he would seek to make the country one of the leading nations when it came to dementia care and research.
What about social care?
Changes in council-run social care, which covers everything from residential care to help at home with activities such as washing and dressing, were mentioned as a key component of the cultural revolution Mr Hunt wants to see.
He said he would be looking to introduce the Dilnot proposals as soon as possible. This refers to the idea put forward last year by the economist Andrew Dilnot who called for a cap to be imposed on the costs people face at the end of life.
But there is still a note of caution for those involved in the sector. Neither he nor anyone in the Department of Health was willing to say exactly what that would mean in reality.
The Care and Support White Paper published during the summer committed the government to the idea of a cap only if it was affordable and - crucially - left it open to where it would be set and whether it would be a voluntary scheme that people would have to pay to join before they reached old age.
Labour can expect a fight
The NHS, it is often said, will be the second biggest issue at the next election after the economy.
Labour has already latched on to this, with shadow health secretary Andy Burnham consistently warning the very future of the health service is under threat from the government.
But Mr Hunt dedicated part of his speech to suggesting there was contradiction in Labour's criticisms.
Mr Burnham has been both a junior minister and secretary of state at the Department of Health and so the new health secretary was quick to point out that during his time in office he signed off deals and policies that led to a greater involvement of the private sector.
He also said the suggestion that Labour had a monopoly on compassion was an "insult to common decency".
He then went on to say: "The NHS does not belong to Labour any more than victory in the Second World War belongs to the Conservatives."
Expect more of this as we move towards an election.