Conservative conference: Michael Gove criticises teaching unions
By Sean Clare
BBC News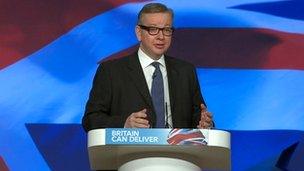 Teaching unions are "holding back" children by taking industrial action, the education secretary has said.
Michael Gove attacked members of the National Union of Teachers and NASUWT, who recently voted to take action short of going on strike.
The dispute is over pay, pensions and conditions.
Speaking at the Conservative Party conference in Birmingham, Mr Gove said union leaders shouldn't let their "ideology hold back our children".
In a speech to activists he said he had friends in the teaching unions and that being a teacher was "the highest calling any of us can be called for".
But he singled out union general secretaries who he said warned him not to identify successful schools because it made teachers from other schools "feel uncomfortable".
"How can we succeed as a country when every time we find success and celebrate it there are those who say 'no, someone might feel uncomfortable'?" the education secretary asked the Conservative conference.
"What I feel uncomfortable about is the soft bigotry of low expectations."
NASUWT and the NUT represent nine out of 10 teachers in England and Wales.
Members from both unions have voted to work only to what it says in their contracts. This involves action such as refusing to cover for absent staff members and not invigilating exams.
In his speech Mr Gove accused union general secretaries of telling teachers not to "devote themselves to children".
"I have a simple message to those union general secretaries. Don't let your ideology hold back our children," he said.
"At the moment the general secretaries of some of their unions are making it very difficult. The general secretaries are ordering - ordering - their members not to cover classes where another teacher might be ill or away at a relative's funeral," he added.
The two unions recently launched joint action because of their "serious concerns... about the way the present government is undermining the education system".
In a joint statement the general secretaries of both unions listed unacceptable and excessive workload pressures, changes to pensions, pay freezes and the "privatisation and academisation of schools" as the reasons for taking industrial action.
Responding to the education secretary's speech, Christine Blower, general secretary of of the National Union of Teachers, said: "Michael Gove does not have a monopoly of concern that all children and young people should have high aspiration and the very best teaching and support to achieve. In the NUT we believe this is best done in schools which are well supported by local authorities.
"The secretary of state continues to be obsessed with school structures despite there being no evidence to show that academies in themselves improve educational achievement."
Chris Keates, general secretary of the NASUWT teachers' union, said: "This attack on teachers taking lawful industrial action in defence of their statutory contractual rights and entitlements will be greeted with deep concern by the profession.
"Michael Gove appears to want to return schools to a past where teachers spent their days standing at photocopiers or undertaking bureaucratic form filling, rather than concentrating on teaching and learning."
Related Internet Links
The BBC is not responsible for the content of external sites.