Military face discrimination in housing queue - Pickles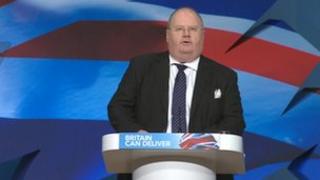 Former military personnel face "discrimination" from councils who refuse to prioritise them on housing waiting lists, a minister has said.
Conservative Eric Pickles told his party's conference: "Foreign immigrants have been given greater priority on housing waiting lists than those who fought for queen and country."
The local government secretary pointed the finger at Labour councils.
He also spelled out powers to prevent illegal traveller camps.
Mr Pickles referred to housing rules that were introduced to give people with a local connection to their area priority in the housing queue.
"We are tackling a great injustice: discrimination against our armed forces," he told delegates in Birmingham.
"Precisely because they have served overseas, servicemen and women don't have a local connection under housing rules."
'Heroes'
The minister said housing rules had been changed to give military personnel first priority for government house-buying schemes.
And he added: "We have given councils new freedoms to allocate social housing to those who have worked hard and given something back to society."
He dismissed what he called "equality issues" in housing allocations saying he did not mind "discriminating in favour of our military heroes".
Announcing plans to give local authorities the power to prevent illegal traveller sites, he said: "New instant stop notices will allow councils to issue unlimited fines for those who ignore planning rules and defy the law."