Francis Maude unveils curbs on union officials' work at Tory conference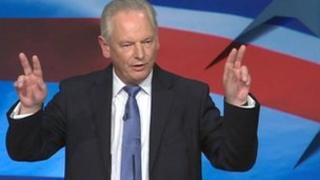 Ministers will have the power to block paid trade union officials from government departments, cabinet office minister Francis Maude has said.
Speaking at the Tory Party conference, Mr Maude promised to halve the cost of full-time union representatives.
Paying civil servants to work solely on resolving workplace disputes and other union activities costs the government £30m a year, he said.
But unions said the practice generates cash for the economy.
"Unions can play an important role in the workplace," Mr Maude told delegates.
"At their best they can be part of the big society, but in too much of the public sector under Labour things got way out of hand."
'Attack'
He said there were 250 full-time union officials paid by the civil service in central government.
"In future there will be no full time trade union representatives at the taxpayers' expense without the specific consent of the minister running the department," he added.
But the Public and Commercial Services (PCS) trade union - which represents civil service workers - hit back at the plans.
An official pointed to government figures which, he said, showed the subsidy raises money.
For every £1 spent on full-time trade union officials negotiating with employers, resolving grievances and dealing with health and safety issues, the official said, between £3 and £9 was generated for the wider economy.
PCS general secretary Mark Serwotka said: "This latest attack on civil servants is part of a sustained and calculated plan to shift the balance of power even further away from employees to employers and we will be resisting it robustly."
But Cabinet Office sources said the figures cited by the unions were five years old and based on a document produced by the last government.
Mr Maude, who is leading government plans to reform the civil service, on Monday paid tribute to "some of the best civil servants I've ever worked with".
He said last year the government had saved £5.5bn by "scrutinising every item of spending".
"We've slashed spend on marketing and advertising, saved hundreds of millions from consulting bills and temporary staff, and scrutinised the fine-print on all new ICT projects," he told the conference hall.
And he said the government was halfway through its programme of scrapping public bodies such as the UK Film Council, Cycling England and regional development agencies.
"We are only half way through but already 106 have gone and another 150 merged together into fewer than 70."