Conservative conference: Migration target 'too blunt'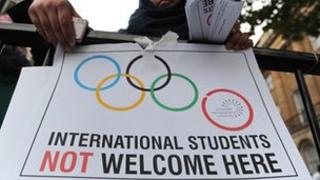 The government's flagship immigration policy is a "blunt instrument" and risks damaging the economy, a leading Tory backbencher has said.
Nadhim Zahawi said he supported the goal of cutting net migration - set out by the Tories in opposition - from more than 200,000 to "tens of thousands".
But he said he was worried it was dissuading foreign students from coming here and hurting British universities.
"It effectively pits our border policy against our growth policy," he said.
The Conservatives pledged in their 2010 manifesto to substantially reduce annual net migration - the difference between the numbers entering and leaving the UK - by 2015.
Speaking on Tuesday, Home Secretary Theresa May defended the target and said the party would do "everything" it could to meet it over the next three years.
'Being straight'
The target was not included in the coalition agreement and has caused tension with the Lib Dems - who argue it could deter highly skilled workers required in sectors of the economy.
Mr Zahawi, MP for Stratford-on-Avon, who was born in Baghdad, Iraq, to Kurdish parents, who sought asylum in the UK during Saddam Hussein's rise to power, co-founded polling company YouGov.
He told a Tory conference fringe meeting that migration targets could be useful "yardsticks" for holding the government to account but he had concerns about how it was being explained.
"We need to be straight with the British public about what we mean when we sign up to targets.
"When you boil down a set of values and principles into a single numerical figure, a target can become an end in itself rather than a means to an end."
The net migration target was designed to usher in a more efficient, fairer system but the government had to be honest with the public about "what it meant and how it can be improved".
"The current target is a blunt instrument. And it effectively pits our border policy against our growth policy and we are not being straight with the public about that."
He said there was clear evidence the public wanted tighter controls over immigration, but the issue was "more nuanced" than media stories about abuse of the system suggested.
"For far too long we have sort of become prisoners of the Daily Mail headline. We need to pull back from that."
'Clumsy'
The Home Office's recent decision to strip London Metropolitan University of its right to sponsor overseas students has prompted concerns among MPs about how students are treated within the immigration system.
Ministers have been urged to remove foreign students from net migration statistics to allow the UK to continue to expand its share of the lucrative overseas student market.
About 2,600 London Metropolitan students were told to find an alternative places or face deportation after the UK Border Agency acted on evidence there were students without any right to remain in the UK, without adequate English and their attendance was not being monitored.
However, the High Court subsequently ruled that existing students with full immigration status would be allowed to continue their studies and the university would be able to challenge the Home Office's decision.
Mr Zahawi said it was right for the government to clamp down on bogus students and colleges.
But he said the Home Office's handling of the Metropolitan case had been "clumsy" and it raised questions about the message it was sending to foreign students about how welcome they were in the UK.
"We are not being upfront about out attempts to meet the (immigration) target by dissuading a group who provide an obvious economic benefit, who are disproportionately less likely to settle and who of all migrant groups attract less public concern," he said.
'Vested interests'
But in her speech to conference, the home secretary said uncontrolled, mass immigration "undermined social cohesion" and there was no evidence it benefited the economy.
The government, she argued, would take on "powerful vested interests" which opposed its policy, adding that the higher education sector could not be treated differently because of its value to the British economy.
"They (critics) argue that we need ever more students because education is our greatest export product," she said.
"I agree that we need to support our best colleges and universities and encourage the best students to come here.
"But to say importing more and more immigrants is our best export product is nothing but the counsel of despair.
"We were elected on a promise to cut immigration, and that is what I am determined we will deliver."