Tory conference: Chris Grayling hails 'old lags' scheme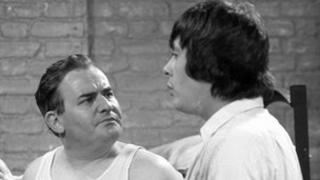 Chris Grayling has hailed a scheme in which older prisoners mentor young inmates, saying there was "no-one more powerful" to promote rehabilitation.
The justice secretary said he was committed to the "rehabilitation revolution" started by Ken Clarke.
And he was not necessarily the "tough" right winger of tabloid repute.
The Peterborough prison scheme echoes sitcom Porridge in which "old lag" Ronnie Barker takes a younger cellmate under his wing.
But unlike the fictional Slade prison, private investors receive "payment-by-results" if prisoners do not re-offend.
In August 2010, HMP Peterborough secured £5m in social impact bonds to fund rehabilitation work with 3,000 Peterborough Prison inmates.
The scheme is a joint project run by the Ministry of Justice and Social Finance, an ethical banking organisation.
'Great failing'
It is funded by investors and provides money for mentors to help ex-prisoners adjust to life outside jail.
Mr Grayling's appointment as justice secretary - in place of the more liberal Ken Clarke - was portrayed by newspapers as a return to traditional Tory values on law and order.
But Mr Grayling told a fringe meeting at the Tory conference that was not the "whole story".
He admitted that he was expected to be the Prison Reform Trust's "worst nightmare" but he actually supported much of the work of the Prison Reform Trust.
"I don't think we have got the rehabilitation revolution right in this country," said Mr Grayling.
He said it was a "great failing" that so many prisoners - particularly first-time offenders - went on to reoffend after release.
"We haven't done a good job in turning their lives around and lo and behold they reoffend again."
He talked of "the imperative of rehabilitation… that's what I intend to really focus on delivering".
Mr Grayling is expected to champion the use of payment by results across the public and private sector to improve rehabilitation.
He plans use his experience in setting up the Work Programme, where firms and charities who helped get the unemployed into jobs were rewarded according to their success, in tackling the problem of reoffending.
He also rejected calls for the reintroduction of the death penalty - another popular right wing cause - saying he was in favour of long sentences and the worst offenders never being released.
He added: "I have never been a supporter of capital punishment… the truth is that the history of this country is full of stories of miscarriages of justice and there's only a chance to do something about it if they've been jailed for life."