Tory conference: Councils urged to plant more trees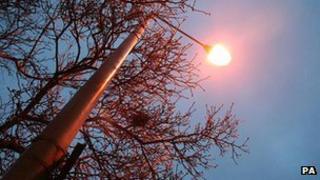 Local authorities should be "incentivised" to plant more trees in new housing developments, a Conservative MP has suggested.
Tree-lined streets and having woodland near by could "tremendously improve" new schemes, Guy Opperman told a Tory conference fringe meeting.
The coalition has come under fire for allowing building on Green Belt land.
There are also fears a planned high speed rail link between Birmingham and London could destroy ancient woodlands.
But another Tory MP at the same meeting insisted Conservatives were the natural party of conservation.
Rory Stewart, MP for Penrith and the Border, said: "Being a Conservative, is about the slow development of time, the conservation of things...it is about our nation and what greater representation of our nation than the English oak."
Government U-turn
The two backbenchers were taking part in a debate at the Conservative conference on the future of forestry in England in the wake of the government's U-turn on the sell-off of commercial plantations last year.
The minister in charge of the aborted sell-off - Caroline Spelman - has since been replaced as environment secretary by Owen Paterson.
The government subsequently commissioned an independent report - headed by the Bishop of Liverpool - into the future management of forests which concluded they were a national asset and should not be sold off.
Mr Opperman, whose Hexham constituency includes the England's largest plantation, the Kielder, was one of those to vote against the proposals before they were dropped and told the meeting he had no regrets.
"I did not support what the government was putting forward...I am very glad that I didn't...I welcome this report. I don't think it is perfect, nothing is perfect, but it is something we can work on very solidly."
The importance of forests and woodland was not merely confined to rural areas, he said, particularly at a time when the government was committed to building more houses and getting the economy moving.
"How we deal with future planning in relation to housing and the green belt and how the government incentivises local authorities...to what aspect they include woodland...that is absolutely crucial," he said.
"Governments can incentivise and allow county councils to go forward and do that."
High speed rail
Asked whether councils should oblige builders to plant a certain number of trees in and around new developments, he said this would be "very tough" since every housing project was different.
"You don't know whether the land is appropriate and you end up having trees that probably then go and die because they can't be in the right place.
"You should have as a general guidance going forward, that would be my solution...You can improve any form of housing development tremendously if you take the report."
But the Woodland Trust warned that conservation groups were potentially on a collision course with the government over the environmental impact on the HS2 high-speed rail route between London and Birmingham.
Some of the remaining 2% of ancient woodland was along the proposed route, the organisation's chief executive Sue Holden said.
"There is a red line there for us. You cannot destroy ancient ancient woodland. That is a challenge, HS2 will."
Chancellor George Osborne has urged local authorities to use existing powers enabling them to build on Green Belt land if an equivalent area of land elsewhere is brought into the Green Belt.
He warned that the country could not afford to wait years for new development at a time when the economy was struggling - but the move has been criticised by conservation groups.