David Cameron to focus on 'what really matters'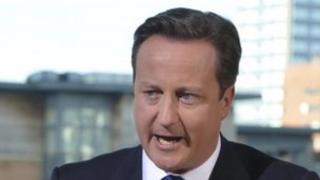 The Big Picture.
That's what Tony Blair used to say the media should focus on when asked about all the things that were going wrong for his government.
Expect David Cameron to express the same sentiment - if not to use the same language - at his conference this week.
This afternoon William Hague spoke of the "great test of this generation" in a speech which was much more serious than the one his party's grown used to on the opening day of their conference.
What he meant by those words was the simultaneous challenges of tackling the deficit whilst preparing the country to face the growing competition posed by the world's new fast-growing economies.
The Tories' claim will be that George Osborne's deficit reduction programme, Michael Gove's education reforms and Iain Duncan Smith's re-shaping of the welfare state are doing just that.
When asked about pasty taxes or plebs or rail franchises the prime minister will insist that what really matters is the government's big reforms and not the day-to-day cock-ups.