David Davis says MPs out to unseat Cameron are 'daft'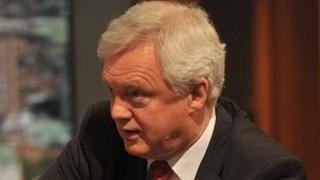 Conservative MPs calling for a ballot on David Cameron's leadership are "daft", former minister and leadership contender David Davis has said.
It emerged last month that 14 MPs had written to officials urging a vote on Mr Cameron's position, well below the threshold needed to trigger one.
Mr Davis, whom Mr Cameron defeated to win the Tory leadership in 2005, said it was "no time for introspection".
He was speaking ahead of the start of the Conservative conference on Sunday.
Mr Cameron has been under pressure in recent months because of the poor state of the economy, backbench unrest over Europe and the prospect of Commons boundary changes likely to favour his party not coming into effect in time for the next election.
'National crisis'
The Spectator reported last month that 14 MPs had written to Graham Brady, chair of the party's backbench 1922 committee, calling for a ballot on Mr Cameron's leadership.
Under current Conservative Party rules, a ballot is triggered if 15% of MPs request one.
There are currently 304 Conservative MPs in Parliament, meaning 46 signatures would be needed to trigger a vote.
Nadine Dorries, a persistant critic of the prime minister, has warned that he could face a leadership challenge before the next election unless the party's poll ratings improve.
In an interview with the BBC's Sunday Politics East, Ms Dorries said "there is an atmosphere of despondancy" within the Conservative Party.
"We will all be behind David Cameron if he looks like he's going to be a winner in 2015," she said.
"But if he looks like he's going to lose and if the polls remain stubborn then a challenge to his leadership is a very real threat indeed."
But Mr Davis told The House magazine that any of his colleagues seeking to challenge David Cameron test were "daft".
"We are in the middle of a national crisis in economic terms. It is not a time for introspection."
In a wide-ranging interview, Mr Davis also warned about the electoral challenge posed by the UK Independence Party, which campaigns for the UK to leave the European Union.
"UKIP's appeal is not just about Europe," he says. "They basically present themselves as an alternative Conservative Party.
"Whether it's law and order or whether it's green policy, it is like a Conservative primer. We want to watch it."
'Bold statements'
In an interview for the same publication, Justice Secretary Chris Grayling said the Conservatives needed to do more to appeal to their core supporters but also those who voted for UKIP in 2010, or did not vote at all, if they wanted to win power outright.
"I do not believe we can win the next election if we have not got our supporters behind us," he said.
"To win a general election, you have got to have people who are broadly in the Conservative family together united behind us. I think that's something we have to work to do."
Mr Grayling said the fact the Conservatives got a boost in some opinion polls after David Cameron vetoed plans for a new European treaty in December should be a "big lesson" for the party.
"By making a bold statement on where we stand, actually the right of the electorate said, 'That's great, we really want to see our prime minister taking a stand like that,'" he said.
'Anxieties'
The justice secretary said he was not "necessarily" calling for more EU vetoes and he acknowledged there were things the party might like to do but could not because it was in coalition.
But he said he believed the Conservatives should be "sending messages" to their natural supporters on certain issues.
"I think we will need some symbolic statements between now and the next election that say to the people who voted Conservative at the last election... something that says to them, 'Actually we like the idea of a second-term majority Conservative government, we believe and have confidence that it would do the kind of things we want it to do.'"
Meanwhile, the Tory peer Lord Ashcroft - a major donor to the party - has warned Conservatives they need to show voters they "share their aspirations and anxieties".
Writing for the Conservative Home website, Lord Ashcroft said he had commissioned research suggesting that many voters, "feel they are just coping or even struggling, but even the more comfortable were often little inclined to the Conservatives".
While people feel his party "would be there for them if they succeeded", he warns: "They would not want to have to rely on a Conservative government if they found themselves in trouble."
Tim Montgomerie, the website's editor, said the Tories should be worried they were seen as the party of "the pensioner who has already made it rather than the young person looking for work".