Andrew Mitchell pulls out of Conservative conference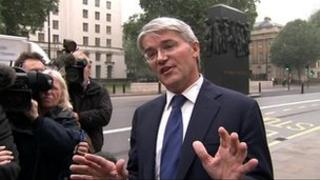 Andrew Mitchell has pulled out of the Conservative Party conference amid the ongoing controversy over his outburst at police officers outside No 10.
A friend of the chief whip said he would not attend the event in Birmingham, which starts on Sunday, fearing he would be a "distraction".
Mr Mitchell has apologised for his conduct in the row but has denied calling the officers concerned "plebs".
He has agreed to meet Police Federation officials later this month.
Although Mr Mitchell - the MP for Sutton Coldfield - had not been expected to speak at conference, it is highly unusual for the party chief whip to stay away altogether.
"It was his own decision," a friend of the minister's told the Press Association. "He doesn't want to be a distraction."