Labour conference: Hello Mr Next Prime Minister?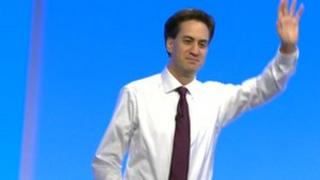 He could have been a dead man walking - had he stumbled over his words during Tuesday's marathon feat of memory, or had his message fallen flat.
But Labour leader Ed Miliband had a definite spring in his step as he bounced on to stage for a question and answer session with the party faithful on Wednesday.
These events can often descend into wince-inducing displays of party loyalty, as star-struck activists lob soft-ball questions at their leader, inviting "I'm glad you asked me that" style responses.
At a similar event last year, Mr Miliband even begged for tougher questions. There were few curveballs for him to deal with here too but it did offer a chance for party members to get their heads round the slogan under which they will, in all likelihood, be fighting the next election.
'Clear direction'
Mr Miliband is likely to spend a lot of time over the next few months explaining what One Nation Labour - the slogan he mentioned 47 times during his conference speech and which he hopes will give him Labour activists a tune to whistle on the campaign trail in 2015. And he got started early at this Q&A.
"It sets a very clear direction of travel for us as a party," he explained to delegates.
"One Nation is incredibly important to us as a country and us as a party. Old Labour is not going to answer the challenges we face because it can't stand up for the whole country.
"But nor is New Labour, because it was too silent about the responsibilities of those at the top and too timid when it comes to the vested interests of our country."
It was, he said, about getting an economy that works for all and where responsibility goes from the bottom to the top of society.
At just that moment, Mr Miliband's policy guru Jon Cruddas - whose ideas about national identity and the importance of unifying the country have clearly influenced his party leader - strode into the hall taking a seat right up at the front to watch his man in action.
After a few digs at the "shambolic" government over the West Coast Mail Line franchise and a warning on David Cameron's ABC - where he blames Anyone But Cameron, Mr Miliband threw to the floor for questions.
Delegates jumped to their feet waving all manner of objects to get their party leader's attention - a Welsh flag, a hard hat, a "spangly" bag and even a few crutches were hoisted frantically into the air.
Ad-libbing
Some people waved scarves, jumpers and shoes, although Mr Miliband warned them not to take the garment waving too far - "let's keep this decent," he joked.
Some delegates were so desperate to get their question to Mr Miliband they remained standing, and waving, for most of the hour and a half session.
Mr Miliband was very much at ease with the partisan crowd, ad-libbing jokes and answering questions on everything from the role of fast food in public health to women's safety, from Trident to the living wage.
The only moment when he looked slightly less than comfortable was when a wolf whistle greeted Southampton women's officer, Eileen Wharam's revelation she'd given the party leader a kiss at an earlier local conference.
And she wasn't the only one. Another member from Wales told the audience she was thrilled to have received a peck the previous day while her friend admitted she was "jealous" because she missed out.
But one of the biggest claps of the session came when disability activist Dave Allan greeted Mr Miliband with "good afternoon, Mr Next Prime Minister".
He looked more pleased with that than when Mitt Romney addressed him as "Mr Leader".
How many in the hall believe, in their hearts of hearts, that he really will be the next prime minister is anyone's guess.
But it feels like there will be more than at the start of the week and, at this stage of the electoral cycle, that is about as good as it gets.