Chief Whip Andrew Mitchell to meet police representatives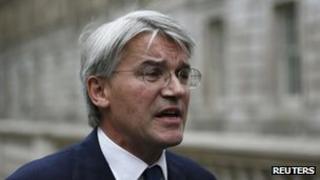 Government Chief Whip Andrew Mitchell will meet representatives from the Police Federation later this month, government sources have confirmed.
Mr Mitchell is expected to have a private meeting on 12 October.
Protests have been held outside his Sutton Coldfield constituency office in the West Midlands after a confrontation with police officers in Downing Street.
Mr Mitchell has since apologised but repeatedly denied he swore and called them "plebs".
The meeting would come two days after the Conservative Party conference and is expected to take place around his constituency.
Mr Mitchell has said the row has been "blown out of all proportion" by the media.
He is said to have lost his temper with officers when they told him he could not take his bike through the main Downing Street gates.
But he denies using the word "pleb", which was attributed to him in the official police log of the incident.
T-shirt protest
The female officer in Downing Street who made that report said she had warned Mr Mitchell that if he had continued to swear she would have had no option but to arrest him under the Public Order Act.
London Mayor Boris Johnson has said said it was "wholly right" that Mr Mitchell came close to being arrested by officers.
But the mayor added the "crucial thing" was Mr Mitchell had apologised a number of times for his outburst. The government has ruled out an investigation into the row.
The police log of the confrontation was published in full for the first time by the Daily Telegraph.
A protest over police budget cuts was launched by officers wearing "PC Pleb" T-shirts outside Mr Mitchell's offices in Sutton Coldfield.
Members of local Police Federation branches across the West Midlands organised the demo to publicise a campaign in Birmingham in the run-up to the Conservative Party conference in the city.
The Tory conference is being held at the ICC in Birmingham from Sunday 7 October.