Labour's Keith Vaz denies payments 'suspicious'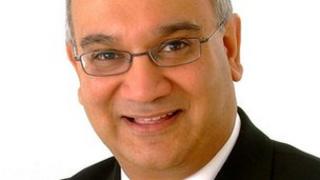 Senior Labour MP Keith Vaz has denied that large payments to his bank account were "suspicious in any way".
The Daily Telegraph says a police inquiry more than a decade ago found that about £500,000 in funds was "of a suspicious nature".
Tory MP Andrew Bridgen has asked for the relevant documents to be passed to Parliament's standards watchdog.
But Mr Vaz said he was "not worried" and the funds had come from a house sale and "a drawdown of equity".
The Leicester East MP and Commons Home Affairs Committee chairman was investigated between 2000 and 2001.
The Daily Telegraph claims police discovered Mr Vaz held hundreds of thousands of pounds in a series of bank accounts and Scotland Yard believed the funds "were of a suspicious nature".
'No outside interests'
The newspaper suggests this contradicts assurances given by the MP at the time, when he said the money had come from the proceeds of property deals.
Mr Bridgen called for the documents to be passed to the Parliamentary Commissioner for Standards John Lyon, telling the BBC the former minister should quit his committee role if an inquiry was opened.
However, Mr Vaz said: "I am not worried. I always look forward to Mr Bridgen's letters."
In a statement on his website, the MP said he had been contacted by the Telegraph about an investigation "which may or may not have occurred 10 years ago" but had not been shown the documents.
"These matters relate to two parliamentary inquiries which began in 1999 and concluded in 2003. My finances were discussed by every newspaper in the country for a period of three years and were the subject of extensive examination. I have had no outside interests.
"The Telegraph claim that the unnamed police officer states that the payments into my account were suspicious. They were not suspicious in any way.
"They relate to the sale of a family home in London, the purchase of a new family home and a drawdown of equity from my bank. When you sell a house and you buy a new house it is normal practice for the money to be paid into your account and the money then paid out."