Civil servants blocking government policy 'unacceptable' - Maude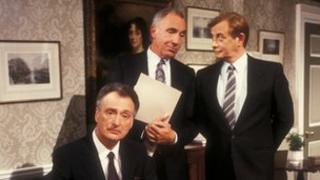 It is "unacceptable" for top civil servants to veto government policies or fail to fully implement them, a senior minister has warned.
Francis Maude said there have been cases where top mandarins have blocked initiatives agreed by ministers.
In a speech in London, he said the civil service was too often "risk averse" and "focused on process".
Unions reacted angrily, saying the comments could "severely" damage trust between ministers and civil servants.
Government plans to reform the civil service, including putting 10% of staff on annual probation, have caused controversy.
Mr Maude has asked a leading think tank to look at how top civil servants are appointed in other countries, such as New Zealand and Australia, and what their responsibilities are as part of a review of UK customs and practices.
The government wants a more streamlined civil service focused on delivering its major changes in education, health and welfare as well as implementing spending cuts.
'Sterling work'
The civil service is smaller now than at any time since 1945 but ministers want changes to the culture of the organisation and a wider "can-do" attitude.
In New Zealand, officials have a contractual responsibility to their ministers to deliver policies once they have been agreed.
Speaking to the Institute for Government, the Cabinet Office minister said the civil service has "great strengths" but accountability to ministers needs to be "sharpened".
"Once a minister has made up his or her mind and given a decision, the constitutional role of the civil service is explicitly clear, it is to implement that decision," he said.
"Ministers from this government, and in previous ones, have too often found that decisions they have made do not then get implemented.
"There are cases where permanent secretaries have blocked agreed government policy from going ahead or advised other officials not to implement ministerial decisions - that is unacceptable.
"Such exceptional cases undermine the sterling work of the majority of civil servants."
Culture change
He suggested many officials were crying out for changes to how they work.
"The demand for change is not just coming from ministers," he added. "It comes from civil servants themselves.
"Many have told us of their daily frustrations with a culture that can be overly bureaucratic, risk averse, hierarchical and too focused on process not outcomes."
Mr Maude is expected to give details of plans which could allow ministers greater discretion over the appointment of top officials and changes to how their performance is rated.
The annual objectives that top civil servants work towards will be published for the first time.
'Loss of trust'
Union officials said that if ministers had concerns about the actions of their civil servants, there were "established" procedures for dealing with them.
"By making accusations against permanent secretaries who are unable to defend themselves publicly, Francis Maude risks a severe loss of trust between the most senior civil servants and ministers," said Dave Penman, from the First Division Association.
"If civil servants have serious concerns about policy initiatives, they have a responsibility to raise those concerns with ministers - that is the role of an impartial civil service. Too often ministers seek to scapegoat senior civil servants for the failure of policy.
"By publicly berating permanent secretaries in this way, the government risks damaging the key relationships between ministers and their most senior officials."
There has been a large turnover in senior mandarins since the coalition came to power in May 2010, with changes at a host of departments.
The top officials at the Home Office and the Department for Energy and Climate Change recently become the latest to announce they are stepping down.
Government adviser Lord Browne - who leads a team of non-executive directors from the City and industry brought in to improve the way Whitehall is run - has said the attrition in top officials has been "problematic".