MP urges Keith Vaz investigation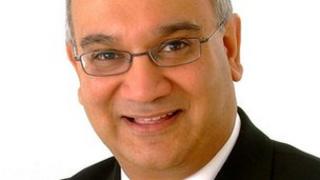 A Conservative MP is to write to the Parliamentary Commissioner for Standards, calling for an investigation into former Labour minister Keith Vaz.
Andrew Bridgen said he would ask John Lyon to look at claims relating to the financial affairs of the chairman of the Home Affairs Committee.
He told the BBC, if Sir John began an inquiry, Mr Vaz should leave the role.
A Labour source said Mr Vaz denied the allegations, which had been "investigated a decade ago".
The MP was investigated between 2000 and 2001.
The Daily Telegraph claims police discovered Mr Vaz held hundreds of thousands of pounds in a series of bank accounts and Scotland Yard believed the funds "were of a suspicious nature."
'Nothing further'
The newspaper suggests this contradicts assurances given by the MP at the time, who said the money had come from the proceeds of property deals.
Mr Vaz apologised to MPs and was banned from the House of Commons for a month in 2002, after a report by the Commons Standards and Privileges Committee accused him of showing contempt for Parliament.
The report criticised the Leicester East MP for refusing to co-operate with an inquiry into his conduct and failing to declare cash donations.
Questioned about the Telegraph story, a Labour source said: "Keith Vaz denies these allegations. These were investigated a decade ago and we have nothing further to add."
The Metropolitan Police said: "It would not be appropriate for the Metropolitan Police Service to comment on any individual historic financial investigations that may or may not have been conducted."
Mr Vaz has not returned the BBC's calls on the issue.
His select committee responsibilities include scrutiny of the police.