Cross-party tributes for former energy minister Wicks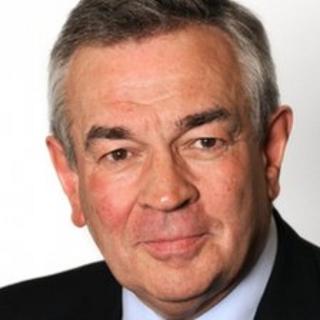 Politicians from all sides have paid tribute to former energy minister Malcolm Wicks, who died on Saturday after suffering from cancer.
Labour had "lost one of its sharpest thinkers", leader Ed Miliband said. Conservative Communities Secretary Eric Pickles called the Croydon North MP "a man of great wit and humanity".
Former prime minister Tony Blair hailed Mr Wicks' "complete integrity".
Mr Wicks, who was 65, had served the north of Croydon as an MP since 1992.
He held a variety of ministerial briefs under Tony Blair and his successor Gordon Brown including pensions, science and energy.
Mr Miliband said: "He was a brilliant energy minister, he was a deep thinker about welfare and pensions, and Labour to his core.
"Malcolm was also a dedicated constituency MP, always putting the needs of his Croydon constituents first. He was a brilliant campaigner.
"I have lost a wise confidant and most importantly a dear friend and the Labour Party has lost one of its sharpest thinkers. Our thoughts go to Malcolm's wife, Margaret, and his family."
'Great thinker'
As minister of state for pensions between 2003 and 2005, Mr Wicks helped in changing policy to stop age discrimination in the workplace.
He also campaigned for allowances for a lower pension age for those from poorer backgrounds - stating that statistically they worked from an earlier age and had a lower life expectancy.
He served as energy minister from 2005 to 2006 and was reappointed under Gordon Brown's reshuffle in 2007.
During this time he campaigned for lower costs for energy pre-pay customers, who he said paid "disproportionate" and "unjust" costs.
He also pledged his commitment to make the UK one of the most attractive places to invest in green energy.
The married father and grandfather stepped down from government in 2008 and spent two years as Gordon Brown's special representative on international issues.
Mr Brown called Mr Wicks "a great thinker, writer, campaigner and parliamentarian".
"I talked to him during his long period of ill-health and I marvelled at his courage and tenacity in fighting his illness," said the former prime minister.
Mr Blair said: "He had a very basic principle that guided his life: to do what he could for others, to serve, to be committed and to work hard for causes that were always about helping those who needed it most.
"He had complete integrity in all he did and, both as an MP for Croydon and a minister, was immensely popular across the political divide."
Liberal Democrat Energy Secretary Ed Davey said: "Malcolm's knowledge and passion on energy issues commanded huge respect, and we are all the poorer for his passing."
Parliamentary 'saint'
Author of a number of publications, including one of the first studies of hypothermia, Mr Wicks is one of a handful of MPs whose Private Member's Bill has made the statute books.
The Carers (Recognition and Services Act) 1995 recognised the needs of family carers for the first time.
He was vocal in questioning the lack of police on the ground in Croydon during the 2011 riots and highlighted the slow pace at which compensation was being awarded to those affected in his constituency.
In the midst of the expenses scandal, Mr Wicks was described as one of the parliamentary "saints" by the Daily Telegraph for his refusal to exploit the system.
The leader of Tory-led Croydon Council, Mike Fisher, said Mr Wicks would be a "hard act to follow."
"Malcolm Wicks was a dedicated constituency MP, a champion of Croydon and a thoroughly decent man who was always considered in his opinions and polite in delivering them.
"He worked with councils of both political persuasions in the interest of the town and was a pragmatic and responsible politician."
Gavin Barwell, Conservative MP for neighbouring Croydon Central, called his colleague "a great MP for Croydon North and good friend". He said: "Drive home from SW1 won't be the same without him".
Mr Wicks became an MP for Croydon North West in 1992, and has represented Croydon North since 1997. There will be a by-election in this seat, which he retained at the 2010 general election with an increased majority of 16,483.
Before becoming an MP, Mr Wicks worked in the urban deprivation unit of the Home Office, as a lecturer and was director of the Family Policy Studies Centre.